Home > Destinations > Eurasia > South Caucasus > 9-Days Cultural Georgia
---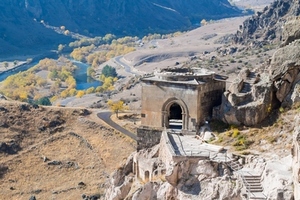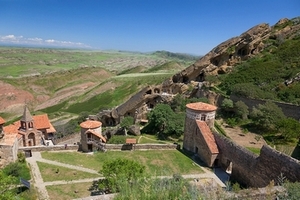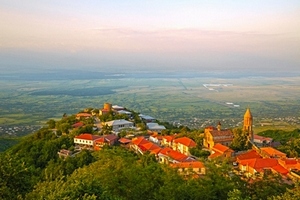 9-Days Cultural Georgia
Georgia
格魯吉亞

| | |
| --- | --- |
| Day 01 | Arrival at Tbilisi |
Upon your arrival into Tbilisi Airport (Georgia's main International airport), you will be met and transferred to your hotel stay.
| | |
| --- | --- |
| Day 02 | Tbilisi ~ Mtskheta ~ Ananuri ~ Kazbegi |
After breakfast explore the ancient town of Mtskheta - the old capital of eastern Georgia. Visit two UNESCO World Heritage site in Mtskheto: Jvari Monastery - the best example of 6th cenutury Georgian architecture located at the top of the hill overlooking the city and Svetitskhoveli Cathedral - the magnificent fortified 11th century church, referred as the most sacred place for Georgians. Continue to the north, along the Georgian Military Highway, main transport artery linking Georgia with Russia into the mountainous provinces of teh Greater Caucasus. Make short stop to see incredible 16th century fortress Ananuri, overlookig Jinvali reservoir on the way. Continue journey via the highest settlements in Europe - Gudauri (2,100m) and Cross Pass - the highest point on the Military Highway (2,379m). Stop for lunch on the way. Arrive in Kazbegi. Dinner and overnight at the Rooms Hotel Kazbegi.
| | |
| --- | --- |
| Day 03 | Kazbegi ~ Gergeti Holy Trinity Church ~ Uplistsikhe ~ Kutaisi |
After breakfast drive by 4WD vehiclefrom the hotel to the 14th century Holy Trinity Church, located at the beautiful, solitary spot on the top of the hill, at an elevation of 2,170 meters. Enjoy the breathtaking view of snow covered Mount Kazbeg - extinct volcano which is the third highest mountain of Georgia (5,047m) and one of the most popular destinations for alpinists. Afterwards drive back Along Military HIghway. Stop for lunch on the way. Transfer to Uplistsikhe (Fortress of Lord), rock-kewn town (1st Millennium BC), notable for unique combination of various styles of rock-cut cultures and the coexistence of pagan and Christian architecture. Here you can see ancient wine presses carved in stone. Continue journey to the west. Arrive in Kutaisi - main city of western Georgia. Dinner at local restaurant in Kutasi. Overnight in Kutaisi.
| | |
| --- | --- |
| Day 04 | Kutaisi ~ Gelati ~ Mestia |
Breakfast at the hotel. Enjoy Morning cathedral in Kutaisi and UNESCO World Heritage Site - 12th century Gelati academy and monastery complex where you can explore unique frescoes and mosaics. Afterward continue journey from the land where the epic legend of teh Argonauts was acted out and the Golden Fleece was kept, to one of the most attractive and remote mountainous provinces of Georgia =- Svaneti. Continue drive to Mestia via Latali and Lengeri villages and enjoy breathtaking sceneries while driving along the river gorge through highest peaks of Caucasus Mountain range. Arrive in Mestia in the evening.
Dinner and overnight stay at hotel in Mestia.
| | |
| --- | --- |
| Day 05 | Mestia ~ Ushguli ~ Mestia |
Breakfast at hotel.
Transfer by 4WD to village of Ushguli - famous for its medieval defensive watchtowers, surrounded by the 5,000m giant peaks of the Caucasus mountain range. Ushguli is one of the highest settlements in the world (2,200m above sea level). Enjoy magnificent view of Mt. Skhara - highest peak in Georgia (5,068) if weather permits. Have lunch at local family restaurant in Ushguli. Drive back to Mestia. Visit Margiani watchtower and Svaneti Museum of HIstory and Ethnography in Mestia.
Dinner and overnight at hotel in Mestia.
Breakfast at hotel.

Enjoy free morning in Mestia. Drive back to Zugdidi. Make photo stop at a hydroelectric dam on the Enguri RIver which currently is the world's second highest concrete arch dam with a height of 271.5 meters. Enjoy lunch at local restaurant in Zugdidi. After lunch drive to Tbilisi. On the way stop to take photos in Shrosha - village of pottery-makers.
Arrive in Tbilisi. Dinner at local restaurant in Tbilisi.
Overnight in Tbilisi.
| | |
| --- | --- |
| Day 07 | Tbilisi ~ Kakheti Tour ~ Tbilisi |
After breakfast drive to the east to explore region of Kakheti - the biggest and the most important winemaking region in Georgia, whcih is famous with its hospitality, delicious food and ancient Georgian technique of winemaking which dates back to the 8th century BC. Visit Bodbe Nunnery (9th century), the place where St. Nino, the 4th century female evangelist of Georgians is buried. Continue to 18th century Royal town of Signaghi. Surrounded by the longest defensive wall in the region with 23 towers, Signaghi was an important strategic place where on Silk Road route. Drive to "Khareba Winery" in Kvareli to enjoy wine tasting and village corner in Georgia's largest wine cellar (7.7km of tunnels). Have lunch at winery restaurant. Stop to see Gremi complex on the way back - beautiful 16th century architectural monument consisting of the royal citadel, church and small archaeological exhibition. Have dinner at Georgian traditional restaurant in Tbilisi.
Overnight at hotel in Tbilisi.
After the breakfast visit the third largest Eastern-Orthodox church in the world - Sameba Cathedral. Enjoy the sightseeing tour of old part of Tbilisi - the multicultural and multi religious city with 1500 years of history. Visit Metekhi - 12th-13th cenutry cross-cupala church which used to be the part of Royal residential complex. Have a look at statue of Mother of Georgia. Visit Narikala Fortress, Sulfur Bath Area, Tbilisi Synagogue and Sioni Cathedral. Have a look at Tbilisi Mosque. Walk along the narrow streets of the old town, full with souvenir shops, cafes and art galleries. In the afternoon visit Archaeological Treasury Hall in Georgian National Museum, where you will see the examples of ancient gold and silver objects and jewelry made by early Georgian goldsmiths. Enjoy dinner at Georgian traditional restaurant with Georgian folk show.

Overnight in Tbilisi.
Breakfast at hotel.
Transfer to airprot for departure.
Have a nice holidays!
Remarks :
Every effort will be made to adhere to the planned itinerary. However, due to weather conditions and reasons beyond our control, changes to the itinerary might occur, for which the company accepts no responsibility.
Our private tailor-made itinerary offer complete freedom of choice. Prices vary according to your selected accommodation, total number of passengers travelling in your party and seasonality of travel; please feel free to contact our Travel Specialist for individual tailor-made itinerary as per your travel plan.
More Tour Selection:

Newsletter Subscription: 訂閱最新旅遊資訊
Site Map · Privacy Policy 私隱政策(只附英文版)
© 2020 Exotic-Holidays.hk · All Rights Reserved.