Home > Destinations > Eurasia > South Caucasus > Georgia
---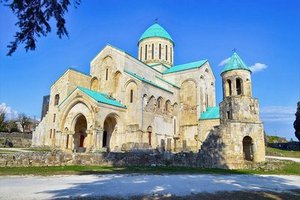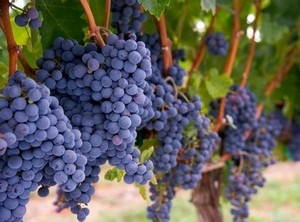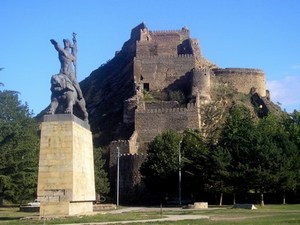 Georgia


格魯吉亞


Country of Georgia, located on the edge of Europe and Asia, boasts both Mediterranean and European culture. It is a small area of land to the south of the Great Caucasus Range, occupaying the isthmus between the Black and Caspian Seas. Despite its relatively small size, (it occupies an area of only 69,700 sq/km), you can find steppes, semi deserts, subtropical forests and glaciers here. The Great Caucasus Range serves as Georgia's natural border with Russia. Its highest peak is Mt. Shkhara of 5,068m.
Today, 3.6 million Georgians, living in a country of 4.6 million people, call themselves Kartveli and their country Sakartvelo, i.e. the Georgian's place. The latter name has not been in use since the 11th century when ethnically and linguistically related kingdoms in the region united to form one nation.
Orthodox Christianity, the state religion since the fourth century, has played a major part in Georgian history and culture.
In geographic terms Georgia belongs to neither Europe nor Asia; in cultural terms it is neither East nor West. Georgian alphabet is among the 14 existing alphabets in the world that includes 33 symbols. It has a distinct language and distinct customs and traditions, found nowhere else in the world.
The numerous UNESCO Sites, impressive rock cut monasteries and cave towns as well as millennia old archaelogical sites and remote areas make Georgia an attractive destinations. The color and richness typical for Georgian art are expressed in architectural monuments and splendid wall paintings, mosaics and handicrafts. Here you come across the profound evidence of a flourishing culture, which is rich in cultural sites and museums.
Georgia captures the attention of those with spirit of adventure and thirst for discovery. While travelling across relatively small country one will experience impressive landscapes and visit different provinces with their own history and traditions.
The uniqueness of the country is also reflected in the diversity of Georgia's Natural heritage. It possesses a biodiversity of global significance, which can be seen in numerous National parks and Nature reserves Rich in Spa resorts, the country is a paradise ofr those who wish to relax, refresh and recreate.
The Cradle of Wine
Vine-growing has an ancient history in Georgia. Fossilized grape leaves, stems and seeds have been unearthed from Miocene deposits in the Akhaltsikhe district of Georgia and in Bronze-age tombs. Other palaeo-botanical and archaeological data attest to the long existence and wide distribution of the vine in Georgia. In some of the oldest human settlements archaeologists have unearthed wine presses cut from stone and a vast array of clay and metal wine vessels, all of which indicate that wine-making has been practiced in Georgia since 2000 years BC.
Local wine-making techniques were developed in Kakheti, Imereti and Kartli. Special vessels for wine storage and maturation were designed along with implements for cleaning the wine vessels. The range of wine made was expanded over the centuries as wine makers developed sweeter, stronger wines and new techniques for blending different wines.
Georgia has a long tradition of wine-making and vine culture. St. Nino, who brought Christianity to Georgia, made a cross from vine stems and tied them together with her hair, symbolizing the sun's rays. The winding characters of the Georgian alphabet reflect the trailing growth of the vine; it is found as a decorative motif in Georgian architecture and as an omamental device it is interwoven with capital letters in the old Georgian manuscripts.
Top 10 Things to Explore & Experience:
Remote and fortified villages.
Varied and delicious cuisine and great Georgian wine
Splendid church architecture and fresco painting
Song and dance traditions and rituals of hospitality.
Cave towns and monasteries carved in stone.
Majestic mountains.
UNESCO world heritage sites.
National Parks and Protected Areas.
Bird-watching and horseback riding.
Ski Resorts that provide something for everyone.
Sites of Visit
Tbilisi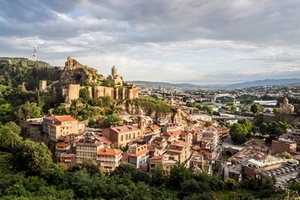 Tbilisi, capital of Georgia from the 5th century AD, has a long and fascinating history. It was founded in the 4th century by King Vakhtang Gorgasali on the site of its warm mineral-water springs - it developed into the main city of the Caucasus. By the 12th century Tibilisi was one of the most important political, economic and cultural centres of the Caucasus. It stood as a key stop on the famous Silk Road - on the border between Europe and Asia. Tbilisi's Old Town, the most ancient part of the city, is renowned for its wonderful mix of cultures. The mosque, the synagogue, the Armenian and Roman Catholic churches blend harmoniously with the splendid Georgian churches and architecture. The wooden houses with open, carved balconies welcome the visitor. The sulphur baths have hosted poets, writers, musicians and kings down through the centuries.
Mtskheta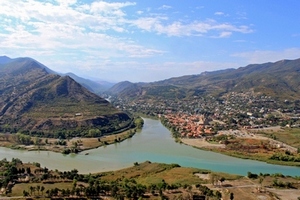 Historians date the town back to the 2nd millennium B,C. Mtskheta was the capital of the Georgian Kingdom of Iberia between 500 BC and 500 AD. Georgian adopted Christianity in the 4th century and thereafter Georgians, Byzantines, Persians, Arabs and Mongols traded conrol of the territory until the Russian annexation in the 19th century.
Important ancient architectural monuments include Jvari Monastery 6th century and Svetitskhoveli Cathedral 11th century.
The Georgian Military Highway & Kazbegi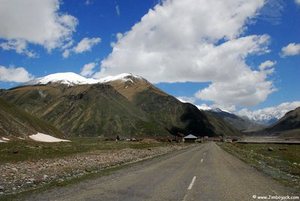 The Georgian Miltary Highway is the historical road leading north from Tbilisi into the Caucasus Mountains. It passes the spectacular Ananuri fortress, then climbs the sides of the dramatic Aragvi River Valley, then over the Jvari Pass (2395m) and down into Kazbegi (1700m). Surrounded by gigantic mountains, Kazbegi is a picturesque settlement overlooked by the biggest peak of all - Mount Kazbek (5047m) - one of the six 5000 metre peaks of the Caucasus. The Sameba Church in Gergeti is a beautifully situated on the hill above the town and provides splendid views of Mt. Kazbek. The region, with its many valleys and peaks is one of the most popular walking destinations in Georgia. The nearby Chaukhi Mountains provide superb rock-climbing, with numerous routes. The Gudauri ski resort located just the other side of the Cross Pass on the southern slopes of the Caucasus offers the best skiing and heli-skiing in the Caucasus.
Svaneti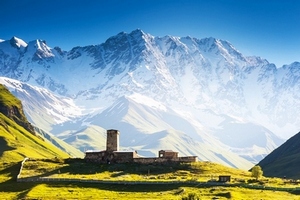 Svaneti, the mythical western province of Georgia, the land of the "Golden Fleece" (where locals still plan for gold through sheep skins) lies high up in the Greater Caucasus. Several 5000 metre plus peaks thrust glaciers down into this beautiful and remote region, where amazing stone towers rise up beside homes, dating back to the 12th century. Never far away is one of Svaneti's numerous, richly frescoed churches, focal points for lively communities where traditions have been preserved for nearly two thousand years. Unique icons and manuscripts are on display in Mestia's museum. Mestia, overlooked by huge hanging peaks, is a well known climber's starting point and the beginning of dramatic trekking trails for the adventurous traveller. The villages of Ushguli, "the highest permanently inhabited settlements in Europe", give a stunning view of Mt. Shkhara (5201m) the highest peak in Georgia. Its ragged stone tower villages have been designated a World Cultural Heritage Site by UNESCO.
There are many myths of ancient Svaneti preserved in popular folklore. According to one, Svaneti formerly rich in gold, was the source of the Golden Fleece. Gold was extracted from the sands of the Enguri River and its tributaries. Strabo, the Greek geographer and historian of the first century BC, described a gold-prospecting technique carried out by putting a sheep's fleece into the river to trap the gold particles. Probably, such a gold covered fleece was brought by Svans as an offering to Aeetes, the King of Colchis that Jason and the Argonauts journeyed to obtain.
Kakheti
Kakheti, Georgia's famous wine district lies due east from Tbilisi in a land dotted with fine old churches and vineyard after vineyard. Stop at any home and be offered delicious homemade wine. Historically Kakheti was often the centre of political turmoil however some of the most beautiful and important buildings were erected here and the church architecture is as diverse as wines in the region. Among the architectural gems are the gracious Alaverdi Cathedral (11th century), the picturesque Ikalto Academy (11th-12th century), Shuamta Monasteries (6th-16yh century), and the elegant Gremi Church (16th century).
Georgian Wine & Cuisine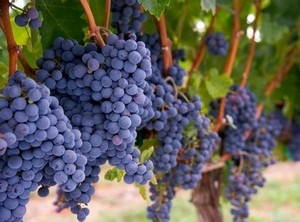 Georgia is considered to be one of the oldest homelands of viticulture in the world. There is evidence of wine-making in Georgia since the 5th millennium BC. From 4000 BC Georgians were cultivating grapes and burying clay vessels, "qvevri" in which to store their wine ready for serving at perfect ground temperature. Vine growing is one of the ancient branches of economic activities of people in Georgia.
The presence of a large number of indigenous orts of grape (more than 500) also is testimony that Georgia is one of the cradles of wild cultivated grapes.
Famous Georgian wines include Rkatsiteli, Manavi, Napareuli, Tibaani, Tsinandali, Vazisubani, Mukuzani, Saperavi, Kindzmarauli, Khvanchkara, etc..
Food in Georgia is one of the biggest attractions for visitors, and "feasting" is the centre-piece of domestic cultural activity. The table is led by the "tamada", who proposes traditional toasts throughout the meal.
Uplistsikhe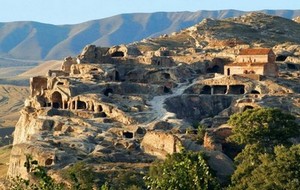 Uplistsikhe (The Lord's citadel) is a cave town hewn into the living rock, 8kms south-east of Gori. The citadel dates back to the 7th century BC. It served as a strategic point on the ancient Silk Road from ancient times until the 15th century AD. It contains a large central hall for pagan rituals, living rooms and a 9th century church. The picturesque Ateni Church (7th century) also near Gori is yet another classic architectural representation of the Georgian church, as are its impressive interior murals.
The Monasteries of David Gareji
David Gareji is situated 75km south-east of Tbilisi. It was founded in the 6th century by the Christian Father St. David. The monasteries of Lavra, Udabno, Dodo and Bertubani are remarkable for their original cave frescoes that date from the 8th to 13th centuries. The setting is no less impressive and expect to see the fabulous white Egyptian Vultures soaring in the sky above.
Vardzia and South Georgia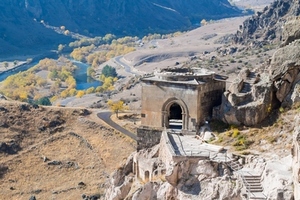 Vardzia in the Meskheti province of southern Georgia - is a 13 storey cave town built between 1186-9 by Georgia's famous Queen Tamar. It stands as a unique example of the Georgian renaissance in an area of many medieval sites. Around the town Akhaltsikhe you can find the elegant Sapara Curch and dramatic Khertvisi Fortress.
Kutaisi & Gelati Monastery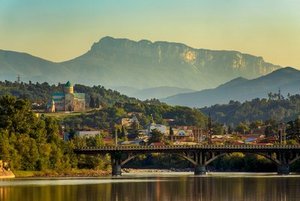 The city of Kutaisi dates back to the Argonauts' time (13th-12th centuries BC). Formerly capital of old Colchida, Kutaisi then ruled all of Western Georgia. The nearby Gelati Monstery was founded in the 12th cenutry by Georgian's most famous king, David the Builder (1073-1125 AD) Its walls are covered in splendid floor-to-ceiling murals of Georgia's saints and monarchs.
Tusheti
Situated in the heart of the Greater Caucasus, Tusheti is a remarkable place, famous for its tall, black-slate medieval towers and hill-top villages. The high forested mountainsides and snow-capped peaks are a haven for Georgia's many kinds of eagles and vultures that soar between deep valleys. Tourists are fascinated by the villages of Dartlo, Parsma and Dano with their stone shrines or "khati" - evidence of people still with strong links to ancient mountain traditions.
Shatili & Khevsureti Province
Deep and narrow river gorges, severe snow-capped peaks, virgin nature, mountainsides carpeted with flowers, traditional stone villages, make Khevsureti an unforgettable experience. Shastili, its main village-citadel, is a unique cluster of houses built-in together to form a defensive citadel. It still stands proudly above the Arguni River - as it has from the 9th century - as a symbol of Georgia's independance and resilience.
National Parks & Protectd Areas
Georgians value their natural Heritage. Lagodekhi Strict Natural Reserve was established in 1912. At present the total area of Protected Areas is 511,123 hectares, about 7% of the country's territory. 75% of Protected Areas are covered by forests. There are 14 Strict Nature Reservices, 9 National Parks, 17 Managed Nature Reserves, 14 Natural Monuments and 2 Protected Landscapes in Georgia.
Batumi & The Black Sea Coast
Set in the south-western corner of Georgia, against the eastern coast of the Black Sea. Ajara spans a wide variety of landscape, from high forested mountains to lush sub-tropical hills - all set beside the balmy Black Sea Coast. Batumi, the capital of Ajara region is a major sea port with a glorious boulevard beside the Black Sea. The city is changing dramatically and now has a number of international class hotels and hosts many cultural events. During the holiday season visitors can attend shows at the recently opened dolphinarium, enjoy a drink and live music at Batumi Piazza at the end f the day.
Batumi and its surroundings offer everything that the sea-side holiday-maker needs: Batumi Botanical Garden, Mtirala National Park, Gonio & Petra Fortresses.
| | |
| --- | --- |
| Territory | 69,700 sq. km |
| Population: | 4,646,000 |
| Capital | Tbilisi |
| Main Cities | Tbilisi |
| | Kutaisi |
| | Batumi |
| Main International airport | Tbilisi International airprot - TBS |
| | Batumi International airport - BUS |
| | Kutaisi International airport - KUT |
| Official Language | Georgian |
| Climate: | A humid subtropical climate in Western Georgia and subtropical to moderate in Eastern Georgia |
| Time Zone: | GMT +4.00 |
| Main Religion: | Orthodox Christian |
| Currency (code) | Lari (GEL - Georgian Lari) |
| Telephone: | Country code: 995 |
| | Area code for Tbilisi: 32 |
| Electricity | 220 volts, 50 Hz |
Geogian Cuisine
Georgian cuisin offers an abundance of elaborate dishes with all possible kinds of meat, fish, vegetables with garlic, walnuts, and various herbs and spices; different sorts of cheese; all kinds of pickles and pignut spices - all of which are very fresh natural products. Each part of Georgian has its unique cuisine with its special flavor, it does not matter are you in mountains or in lowlands, in large cities or remote villages you can feel the whole taste of Georgian cuisine and enjoy the abundance of Georgian wine. Admire dishes, variety of wines, Georgian traditional folk songs and fiery dances will make your holidays truly unforgettable.
KHINKALI - GEORGIAN DUMPLINGS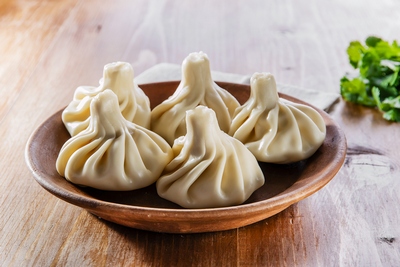 Delicious food of the people in the east and north mountainous regions. It is a boiled dumplings filled with minced meal in dough. In the mountain regions people mix in special spices. All sacrificial rituals are finalized by preparing Khinkali. During the feast hosts serve trays of hot Khinkali for the guests.
KHACHAPURI - CHEESE PIE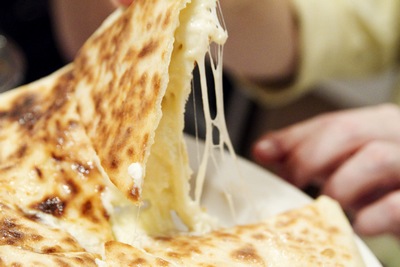 This is a filled bread stuffed with meating cheese and often served sliced. It is decribed by foreigners as "Georgian pizza". Each part of Georgia has its own unique Khachapuri with its own special flavor, composition and shape. In most regions of west Georgia guests are treated to hot Khachapuri. It is considered to be one of Georgia's nationl dishes and is popular in restaurants and in homes.
EGGPLANTS WITH WLANUT FILLING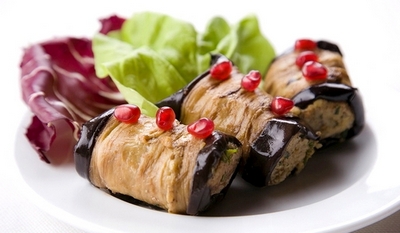 A popular Georgian family dish of eggplant with walnuts and spices. This is primarily a summer dish and is served cold. Roasted eggplant strips, served flat and topped with walnut paste. Georgians make this dish with small eggplants, which are small than the elephantine specimens found in most grocery stores, Ground fenugreek, which traveled along the ancient Eurasian trade routes from India to Georgia, imparts a slightly tart, nutty flavor and is worth seeking out.
LOBIO - BEANS IN A CLAY POT
This is a popular dish made with kidney beans and usually eaten with marinade vegetables. The Georgian word "Lobio" means "beans". There are a number of varieties of this dish Lobio is a cross between bean soup and refried beans. Its consistency and taste varies widely, bears a resemblance to Mexican bean dishes and its almost always satisfying.
MTSVADI - GEORGIAN BARBEQUE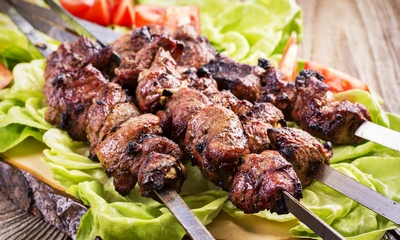 Georgian like to make their Shish Kebab, Fire-roasted salted meat. Georgian prepare Mtsvadi, sliced mead from beef on spear fried over a fire based on sticks of old grapes. Mtsvadi is basically served like beef. Mtsvadi is a simply grilling meat. The meat is done like Shashlik, and made from beef, lamb, park, etc. The park ones are the tastiest - cubes of boneless meat, tender and slightly fatty, without much seasoning.
SOKO KETSZE - MUSHROOMS IN A CLAY POT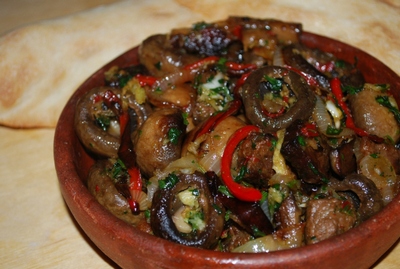 Soko Ketsze translate to "Mushrooms in a clay pot". Soko Ketsze are staffed mushrooms fried in a clay pot. The Georgians love to cook and serve in a clay pots called Ketsi. While it is generally served in a clay pot, the mushrooms are also topped with melted Georgian cheese. This cheese, combined with the liquid from the mushrooms that pools at the bottom of the pot during cooking makes for a delicious, if highly unhealthy melandge of flavors.
CHASUSHULI
This is a Georgian dish of fried veal, tomatoes, large onion, pepper and mushrooms that give a new nuance of taste. Chashushuli is served with fresh-baked bread or a corn flat cake, Georgians make Chashushuli with beef, large onions, large onions, mushrooms, bay leaves, red peppers, old and salt.

Newsletter Subscription: 訂閱最新旅遊資訊
Site Map · Privacy Policy 私隱政策(只附英文版)
© 2020 Exotic-Holidays.hk · All Rights Reserved.