Home > Destinations > Eurasia > South Caucasus > 10-Day Explore South Caucasus
---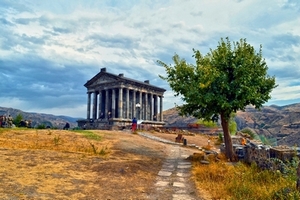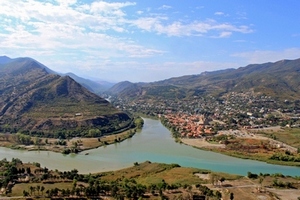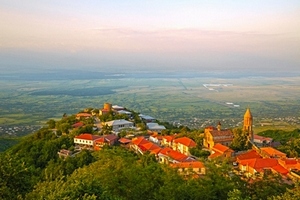 10-Days Explore South Caucasus
Aberjaijan ~ Georgia ~ Armenia
阿塞拜疆 ~
格魯吉亞~亞美尼亞
South Caucasus comprise three unique yet interconnected countries – Georgia, Armenia and Azerbaijan – each with its own distinct customs and traditions. Connected historically with the great Silk Road, this rich region was once traced by ancient caravans from the East carrying delicate jewels, precious stones and spices. Our own tracing of the Caucasus will begin in oil-rich Azerbaijan, from where we journey west into the famous wine-making regions of Georgia, north into the mountainous provinces of the Greater Caucasus, and finally into Armenia, one of the oldest Christian countries along with its Georgian neighbor. We will visit architectural monuments, monastic jewels and cities steeped in a long, rich history of Soviet, Christian, pagan and Arab influence. Along the way we will experience fabulous food, wine, music, art, and warm hospitality from our Caucasian hosts. Indeed, the celebration of the table - with endless toasts of wine - is part of the Georgian celebration of life and one in which we will be fortunate to participate.
| | |
| --- | --- |
| Day 01 | Arrival at Baku ~ Baku and Absheron Sightseeing Tour |
Arrive at the airport. Meet Azerbaijan guide and transfer to the local restaurant for lunch. After lunch depart for Absheron peninsula sights located in 25 km from the city. Visit UNESCO World Heritage Site Ateshgyakh Fire-Worshippers' Temple and enjoy the view of Burning Mountain Yanar Dagh translated as Fire Mountain. Afterwards drive back to Baku and have a sightseeing tour of the city's historic and architectural monuments. Visit – Shehidler Khiyabany, enjoy panoramic view of Baku from the Martyrs Lane. Visit medieval fortress of Old Baku - Ichari Shahar, Maiden Tower, Complex of, Medieval Caravansaray, market square. Walk along the central streets of the city. Dinner at the local restaurant. Transfer to the hotel for check inn. Overnight in Baku.
| | |
| --- | --- |
| Day 02 | Baku ~ Gobustan ~ Shemakha ~ Sheki |
After the breakfast depart to Gobustan - UNESCO Heritage Site famous for its archeological monuments. Travel 30 miles southwest of Baku along the Caspian shore to the volcanic desert, where rocks covered with drawings stand amidst chaos of stones and mountains. There are more than 4,000 rock drawings left by artists of the Neolithic period, depicting the customs and everyday life of ancient tribes. Continue journey to the town of Sheki. En route visit Diri Baba mausoleum in Maraza village. Visit historical mosque Juma (Friday) in Shemakha and mausoleum of Yeddi Gumbez (Seven Domes) – graveyard of Shirvan Shahs'. Have lunch at local restaurant in Shemakha. Continue trip to Sheki via Muganly pass. On the way visit to Basqal village to drink local mineral water Bado, Ven Dam village in Gabala province, ruins of the capital of ancient Caucasian Albania. Arrive in Sheki. Enjoy sightseeing tour of the city. Visit local palace, local history museum, mosque-madrassah, handicrafts workshop. Enjoy panoramic view of the town. Dinner and Overnight in Sheki.
| | |
| --- | --- |
| Day 03 | Sheki ~ Lagodekhi Border ~ Kvareli |
After breakfast depart to Lagodekhi border between Georgia and Azerbaijan. We enter Georgia in the region of Kakheti, the biggest and the most important winemaking region in Georgia, which is famous with its hospitality, delicious food and ancient Georgian technique of winemaking which dates back to the 8th century BC and is still used to produce unique organic Qvevri wine. First we will visit Khareba Winery in Kvareli to enjoy wine tasting and village corner in Georgia's largest wine cellar (7.7 km of tunnels). After the degustation enjoy lunch at winery restaurant with Georgian barbeque. After lunch drive to the hotel Royal Batoni Palace, located in a picturesque area on the bank of Ilia Lake, between Kvareli Mountains and Duruji River. Enjoy dinner at the hotel with traditional dishes and Georgian wine. Overnight at Royal Batoni Palace in Kvareli.
| | |
| --- | --- |
| Day 04 | Kvareli ~ Alaverdi ~ Tsinandali ~ Sighnaghi ~ Tbilisi |
After breakfast drive from Kvareli to visit Alaverdi Monastery (11th c) - the magnificent, fortified cathedral, located nearby the central city of Kakheti region called Telavi. The monastery houses 11th century winery which is still used by Monks. Continue to Tsinandali House Museum and Winery of the 18th century prince and poet, Alexander Chachavadze, who turned the residence into a center for Georgian intellectual life. The palace also houses one of the oldest wine cellars where the wine dating from 1814 is kept. Enjoy the beautiful English-style Park filled with roses and exotic plants. Drive for Lunch to the nearby village Kisiskhevi to the Schuchmann Wines Chateau. Have small excursion in modern winery and enjoy the beautiful scenery of Caucasus Mountains. After lunch drive to the 18th century Royal town of Signaghi. Surrounded by the longest defensive wall in the region with 23 towers, Signaghi used to be an important strategic place on the East-West trade route, where the Silk Road travelers from Asia and Europe used to pass. In the late afternoon drive to Tbilisi – the capital city of Georgia. Dinner at Georgian traditional restaurant. Overnight at the hotel in Tbilisi.
After the breakfast visit the third largest Eastern-Orthodox church in the world - Sameba Cathedral. Enjoy the sightseeing tour of old part of Tbilisi - the multicultural and multi religious city with 1500 years of history. Visit Metekhi Church, 12th-13th century cross-cupola church which used to be the part of Royal residential complex. Have a look at statue of Mother of Georgia. Visit Narikala Fortress, Sulfur Bath Area, Tbilisi Synagogue and Sioni Cathedral. Have a look at Tbilisi Mosque. Walk along the narrow streets of the old town, full with souvenir shops, cafes and art galleries. In the afternoon visit Archaeological Treasury Hall in Georgian National Museum, where you will see the examples of ancient gold and silver objects and jewelry made by early Georgian goldsmiths. Lunch and Dinner at local restaurants in Tbilisi. Overnight in Tbilisi.
| | |
| --- | --- |
| Day 06 | Tbilisi ~ Mtskheta ~ Ananuri ~ Kazbegi |
After Breakfast drive to the ancient town of Mtskheta which is the old capital of eastern Georgia and the most important religious center of the country. Visit two UNESCO World Heritage Sites in Mtskheta: Jvari Monastery – the best example of 6th century Georgian architecture located at the top of the hill overlooking the city and Svetitskhoveli Cathedral – the magnificent 11th century fortified church, referred as the most sacred place for Georgians. Continue journey to the north, along the Georgian Military Highway, main transport artery linking Georgia with Russia into the mountainous provinces of the Greater Caucasus which with its breathtaking sceneries has been the inspiration for many world-famous poets and writers. On the way visit 16th century fortress Ananuri, overlooking Jinvali reservoir. Continue journey via the highest settlements in Europe - Gudauri (2,100m) and Cross Pass - the highest point on the Military Highway (2379 m). Arrive in Kazbegi. Dinner and overnight at the Rooms Hotel Kazbegi.
| | |
| --- | --- |
| Day 07 | Kazbegi ~ Gergeti Trinity Church ~ Tbilisi |
In the morning drive by 4 WD vehicles from the hotel to the 14th century Holy Trinity Church, located at the beautiful solitary spot on the top of the hill, at an elevation of 2170 meters. Enjoy the breathtaking view of snow cowered Mount Kazbeg - extinct volcano which is the third highest mountain of Georgia (5,047m) and one of the most popular destinations for alpinists. Mt. Kazbeg is associated with myth of Prometheus, according to the legend he was chained on the mountain in punishment for having stolen fire from the gods and having given it to mortals. Afterwards drive back to Tbilisi. Stop for lunch en route in Gudauri. Enjoy farewell dinner at Georgian traditional restaurant with Georgian folk group in Tbilisi. Listen to the old and unique Georgian polyphonic songs and taste one of the most popular dishes in Georgia - Khinkali - famous Georgian dumplings. Overnight at the Hotel in Tbilisi.
| | |
| --- | --- |
| Day 08 | Tbilisi ~ Sadakhlo Border ~ Haghpat ~ Sevan ~ Yerevan |
I
After Breakfast drive to the border between Georgia and Armenia in Sadakhlo for border crossing.
******************************************************************************************************
Meet Armenian guide and driver at the border and drive to Yerevan. Visit Haghpat monastery (10th c) - UNESCO World heritage site which is situated over Debed river canyon from where you can enjoy picturesque scenery. Visit Sanahin Monastery complex (10th c) which had a huge influence on the development of Armenian academic and cultural heritage. Stop by Lake Sevan to visit Sevanavank Monastery. Transfer to Yerevan - the capital city of Armenia. Dinner and overnight in Yerevan.
| | |
| --- | --- |
| Day 09 | Yerevan ~ Echmiadzin ~ Garni & Gerghard ~ Yerevan |
Breakfast at the hotel. After breakfast visit ruins of Zvartnots Temple. Visit St. Hripsime Church (7th c.). Continue sightseeing tour of Yerevan including Echmiadzin – the holy seat of the Supreme Patriarch-Catholicos of all Armenians. The Cathedral was built in the site of a pagan temple after the adoption of Christianity as a state religion in 4th c. Visit Echmiadzin cathedral and museum. Continue drive through the picturesque Avan Canyon, skirting formidable cliffs and passing exotic-looking gorges to see the pagan architectural complex of Garni (1st c) and feel the spirit of ancient ages. Visit local farm where you will have chance to take part in baking on traditional Armenian bread – Lavash. Another ride through the gorge will take us to the cave monastery of Geghard. Drive back to Yerevan. Dinner and overnight in Yerevan.
| | |
| --- | --- |
| Day 10 | Yerevan ~ Khor Virap ~ City Tour departure |
Breakfast at hotel. In the morning we will drive though Ararat region to visit Khor Virap Monastery, located on the slopes of biblical Mt. Ararat. We will have chance to enjoy view of magnificent mountain if weather permits. Drive back to Yerevan and start sightseeing tour of the city. -14:45 Visit Matenadaran and Armenia History museum. Afterwards enjoy free time in the city. Visit Yerevan Brandy Company where you will have chance to taste famous Armenian brandy. Enjoy dinner at local restaurant. After dinner transfer to the airport. DEPARTURE.
Have a nice holidays!
Remarks :
Every effort will be made to adhere to the planned itinerary. However, due to weather conditions and reasons beyond our control, changes to the itinerary might occur, for which the company accepts no responsibility.
Our private tailor-made itinerary offer complete freedom of choice. Prices vary according to your selected accommodation, total number of passengers travelling in your party and seasonality of travel; please feel free to contact our Travel Specialist for individual tailor-made itinerary as per your travel plan.
More Tour Selection:

Newsletter Subscription: 訂閱最新旅遊資訊
Site Map · Privacy Policy 私隱政策(只附英文版)
© 2020 Exotic-Holidays.hk · All Rights Reserved.