Home > Asia > Vietnam > Travel Ideas > 5-Days Discover Hoi An Town and Surroundings
---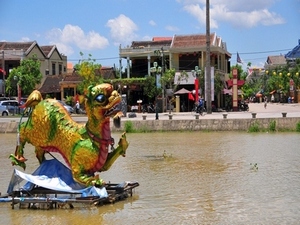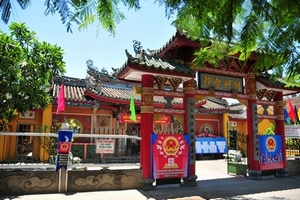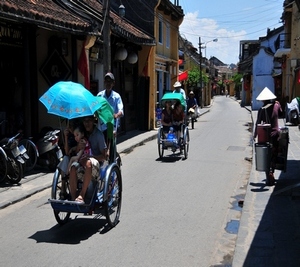 VIETNAM 越南
5-DAYS DISCOVER HOI AN TOWN & SURROUNDINGS
Hoi An 會安

| | |
| --- | --- |
| Day 01 | Danang 峴港~ Hoi An arrival 會安 |
Arrive in Danang and private transfer to the ancient town of Hoi An. Overnight in Hoi An at selected hotel.
This morning visit one of Central Vietnam's highly regarded UNESCO World Heritage sites - the capital and religious centre of the former Champa Kingdom, My Son. Here, 40km southwest of Hoi An, in a lush green valley, are dozens of red brick towers and sanctuaries dating from between the 7th and 13th centuries. On the way back to Hoi An stop to visit Tra Kieu, formerly known as Simhapura or the Lion Citadel, the capital of Champa between the 4th and 8th centuries. Some of the finest sculpture in Danang's Cham Museum originated from here.
Hoi An is a destination with two faces – the charming, old-world trading port of narrow streets and traditional houses, and the beach with its new resorts and long stretch of clean white sand. In keeping with Hoi An's heritage as a trading port, the town's tiny shop houses now host a range of craft shops and artisans including some of Asia's best bespoke tailors. Despite the passing of 200 years and the ravages of weather and war, the centre of Hoi An remains much the same as it was in its heyday.
Hoi An was a major Asian trading port in the 17th and 18thcenturies and its architecture and relaxed lifestyle has changed little over the years. Take an afternoon walking tour of the ancient town centre to visit former merchants' houses, the 400 year-old Japanese Covered Bridge, a Chinese communal hall and the colorful market. Overnight in Hoi An.
This morning enjoy a rural Hoi An experience with the chance to learn all about the rice cultivation process and the lifestyle of the local farmers. Start the day with a hotel pick up at 8:30 am. Begin your journey with a short bicycle ride through rice paddies to the countryside (a vehicle can be arranged for those preferring not to cycle). Arrive at a farm where you will be warmly welcomed with tea by a local family host. You will have the chance to visit their house. Your guide will explain the different steps of rice cultivation. Pull on traditional farming clothes and conical hats for sun protection.
Then, start the fun part of the morning. Because learning is way better with practice, you will experience rides on a water buffalo and learn the how to plough, rake, carry water into the rice field, sow, pull up the rice seedlings, transplant rice, etc. Prepare yourself for a unique experience, and try not to fall into the mud! Afterwards, return to the house and learn how to make pancakes that you will be able to enjoy. Additionally, learn how to cook rice in the traditional way. Enjoy lunch at your host's before riding back to the hotel. Hotel return is at approximately 1:00 pm.
Note: this morning's experience is non private and operated on a join in basis.
Today is a a full day at leisure to enjoy the delights of historic Hoi An town.

| | |
| --- | --- |
| Day 05 | Hoi An 會安~ Danang 峴港 departure |
This morning private transfer back to Danang Airport for your onward flight to next destination.
Have a nice holidays!
Remarks :
Every effort will be made to adhere to the planned itinerary. However, due to weather conditions and reasons beyond our control, changes to the itinerary might occur, for which the company accepts no responsibility.
We offer private tailor-made itinerary on Vietnam which offer you complete freedom of choice. Prices vary according to your selected accommodation, total number of passengers travelling in your party and seasonality of travel; please feel free to contact us for individual tailor-made itinerary as per your travel plan.

Newsletter Subscription: 訂閱最新旅遊資訊
Site Map · Privacy Policy 私隱政策(只附英文版)
© 2020 Exotic-Holidays.hk · All Rights Reserved.