Home > Asia > Vietnam > Travel Ideas > Sapa and the North
---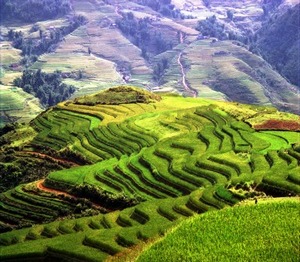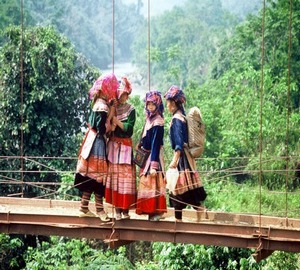 VIETNAM 越南
Sapa and the North
A refreshing mountain gateway
Located in Vietnam's remote north west mountains, Sapa is famous for both its fine, rugged scenery and also its rich cultural diversity. Its lush, deep river valleys, in the shadows of Vietnam's tallest peak Mount Fansipan, are home to Blue H'mong and Red Dao communities, who continue to maintain their strong traditions and warmly welcome visitors to their homes.
The mountainous north of Vietnam is one of the most beautiful, yet under-visited regions in the country. Home to many ethnic communities such as the Hmong and Yao, the area appears to have more in common with areas of northern Laos and Thailand than it does with modern day Vietnam. Traditional rice terraces flow down the steep hillsides, while ancient jungles still teem with life. The town of Sapa has a refreshingly cool mountain climate and French colonial feel, making it the perfect summer retreat.
Sapa is also famous for its street market, which attracts villagers from the surrounding hills and is particularly busy on Saturdays. The unique embroidery, jewelry and clothes of the H'mong and Dao are good to buy here, and the sight of dozens of minority women in their traditional clothing is a memorable part of anyone who stays in Sapa.
SAPA EXPERIENCES
A DAY IN MAI CHAU

Travel west from Hanoi through fertile valleys and along roads snaking through mountain passes to the picturesque Mai Chau Valley, surrounded by karst formations and rice paddy fields. Have lunch in a traditional hill tribe stilted-house and explore the area and its local villages.



EXPLORE VAV GIANG VILLAGE

A half day excursion through the Red River Delta to Van Giang village, visiting its ancient temples and rural markets for a glimpse into country life still largely untouched by development. Stroll through Van Giang to the home of a local family with an impressive bonsai collection, and enjoy lunch in their 150 years old home.



PHU LANG POTTERY VILLAGE - BAC NINH PROVINCE

The village of Phu Lang is one of the last remaining pottery villages in Northern Vietnam and has been producing ceramics since the 13th century using traditional techniques. Spend a half day at the village wandering through the workshops and see the artisans at work.



LAVIEVULINH HOMESTAY

LaVieVuLinh is a sustainable tourism project in Yen Bai Province. The project focuses on education for young people, increasing environmental awareness and promotion eco-tourim. This accommodation option provides guests the opportunity for close interaction with local communities.
We offer private tailor-made itinerary on Vietnam which offer you complete freedom of choice. Prices vary according to your selected accommodation, total number of passengers travelling in your party and seasonality of travel; please feel free to contact us for individual tailor-made itinerary as per your travel plan.

Newsletter Subscription: 訂閱最新旅遊資訊
Site Map · Privacy Policy 私隱政策(只附英文版)
© 2020 Exotic-Holidays.hk · All Rights Reserved.