Home > Asia > Vietnam > Travel Ideas > Halong Bay
---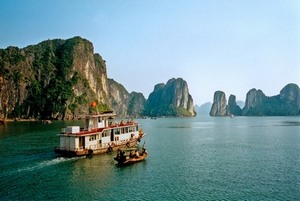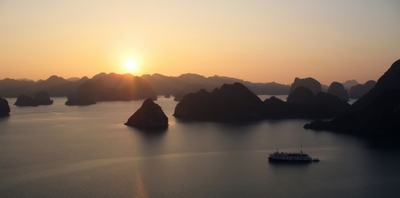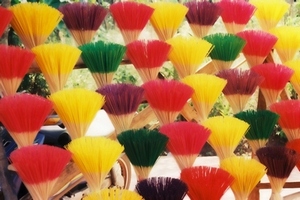 VIETNAM 越南
Halong Bay 下龍灣
Halong Bay is perhaps the most spectacular of Vietnam's natural wonders. Located in the Gulf of Tonkin 170km from Hanoi, it is an impressive collection of nearly 2,000 islands covering an area in excess of 1,500km forming a spectacular seascape of limestone pillars and cliff faces. The breathtaking scenery and unusual geology of the bay led UNESCO to designate Halong Bay a World Heritage site in 1994.
Because of their precipitous nature, most of the islands are uninhabited and untouched by man. The ancient Vietnamese believed that Halong Bay was where a giant dragon "descended into the sea", as the rocky outcrops resemble the humps and scales of a dragon's back. Another legend says that the giant limestone rocks themselves are dragons, protecting Vietnam from hostile invaders. In fact the bay was formed as a result of millions of years of erosion on the limestone rocks. Then when the last ice age finished, the seas rose as the glaciers melted, flooding the entire area transforming hills into the islands we see today.
Many of the forested islands in the bay have hidden caves and grottoes which are easily explored by boat or kayak. Some of the island caves are filled with a colorful stalagmites and stalactites.
We recommend:
PRIVATE DINNER ON THE BEACH OF HALONG BAY

Enjoy a private and unique dining experience with private wait staff set amidst the spectacular views of the Bay. An exceptional add-on to Halong Bay visits for couples, families, as well as groups.



LUXURY CRUISES

Discover the beauty of Halong Bay in style with Emeraude Cruise Experience, on board the grand Emeraude - an elegant replica of a paddle steamer dating back 100 years. Reflecting the character of the Golde Age, but equipped with modern amenities, the unique atmosphere of the boat will make this cruise a memorable sojourn.



HOA LU, TAM COC & HALONG BAY (2 DAYS/1 NIGHT)

Visit Hoa Lu, the former capital of Vietnam from the 10th to 11th centuries and explore its many ancient temples. Head to Tam Coc for a leisurely ninety-minute sampan cruise through its gorgeous landscape of rich green rice paddles and towering limestone karsts, frequently referred to as "Halong Bay on land". Drive through the scenic Red River Delta to Halong Bay for a cruise among the spectacular limestone islands scattered throughout its emerald green waters.
A full exploration of Halong Bay takes 2 to 3 days, though a day trip provides enough time to get a feel for the place. Halong Bay is 3-4 hours by car, or 2 hours by train, from Hanoi.
We offer private tailor-made itinerary on Vietnam which offer you complete freedom of choice. Prices vary according to your selected accommodation, total number of passengers travelling in your party and seasonality of travel; please feel free to contact us for individual tailor-made itinerary as per your travel plan.

Newsletter Subscription: 訂閱最新旅遊資訊
Site Map · Privacy Policy 私隱政策(只附英文版)
© 2020 Exotic-Holidays.hk · All Rights Reserved.