Home > Asia > Vietnam > Travel Ideas > Hoi An
---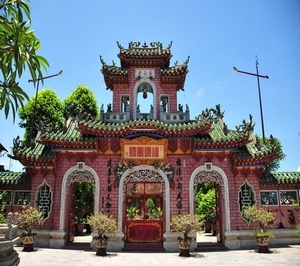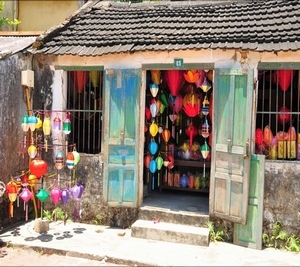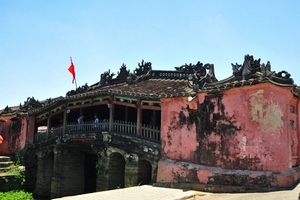 VIETNAM 越南
Hoi An (會安)
Few visitors fail to be charmed by the tiny, teeming streets and crooked houses of Hoi An, 35km from Danang. Indeed, almost everyone rates the town among their favorite stops in Vietnam. Originally a harbour for the Cham city at My Son, the town became a trading port for Chinese, Japanese and European traders, reaching its peak during the 17th century. The different influences on this riverside town over the centuries have resulted in an eclectic mix of architectural styles, ranging from Chinese assembly halls to grand merchants' houses and French colonial villas.
Though many of the houses have been restored, they maintain their original beauty. Most are characterized by polished wooden floors, intricately carved doors and shutters and antique furniture.
In recent years, Hoi An's traders have dedicated themselves to the arts, and the town is home to dozens of art galleries, textile houses and museums. Transportation around Hoi An is by cyclo, on foot or by hired bicycle. A half-hour pedal at a leisurely pace brings visitors to Hoi An's popular Cua Dai Beach. Alternatively, one can rent a local sampan and enjoy a peaceful boat ride down the river to the beach.
Places of Interest
Japanese Covered Bridge
The Japanese Covered Bridge was built over a small canal in 1593 to link the Japanese quarter to the Chinese quarter. Designed and built by the Japanese community, the wooden structure has remained intact. On one side of the bridge are carvings of dogs, and on the other, carvings of monkeys. This is because construction began during a year of the dog, and ended during a year of the monkey. On the northern side of the bridge there is a Japanese pagoda dedicated to protecting sailors.
Tan Ky House
This well preserved 18th century house blends Vietnamese, Chinese, and Japanese architectural styles. Chinese poems written in mother-of-pearl are inscribed on the house's columns, the roof is shaped in a distinctive Japanese, crab-shell shape and the outer structure is Vietnamese in design.
Fukien Chinese Assembly Hall
This assembly hall was built in 1792 and is the largest, oldest and most colorful in the town. The pagoda inside contains intricate statues and artwork, in part dedicated to Thien Hau Thanh Mau, the Goddess of the Sea and protector of fishermen. Just inside the building a mural depicts the goddess preparing to rescue a ship in trouble at sea.
Tran Family Chapel
Devoted to ancestor worship, the 200 year-old house has been in the same family for 10 generations and incorporates Chinese, Japanese and Vietnamese design into the woodwork and beams.
Cua Dai Beach
The large stretch of beach is only 5km from Hoi An and can be reached either by or bicycle along a picturesque country road.
We offer private tailor-made itinerary on Vietnam which offer you complete freedom of choice. Prices vary according to your selected accommodation, total number of passengers travelling in your party and seasonality of travel; please feel free to contact us for individual tailor-made itinerary as per your travel plan.

Newsletter Subscription: 訂閱最新旅遊資訊
Site Map · Privacy Policy 私隱政策(只附英文版)
© 2020 Exotic-Holidays.hk · All Rights Reserved.