Home > Asia > About Vietnam > Travel Ideas > Mekong Delta 湄公河三角洲 >
---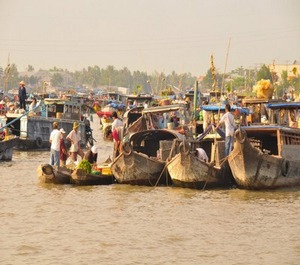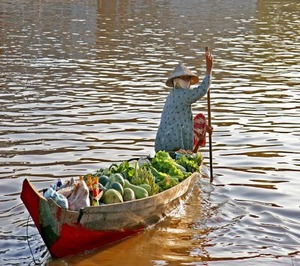 VIETNAM 越南
Mekong Delta 湄公河三角洲
The Delta region is formed by the various tributaries of the mighty Mekong River. The Mekong is one of the world's great rivers, beginning its journey in the mountains of Tibet and winding its way for 4,500 km through China, Myanmar, Laos, Cambodia and southern Vietnam. The Vietnamese name for the Mekong is "Cuu Long", meaning 'Nine Dragons', symbolizing the nine major tributaries of the Mekong that flow through the Delta to the East Sea.
The Delta is an incredibly fertile region of rice paddies, fruit orchards and mangrove swamps and is known as Vietnam's "rice bowl" as it produces the majority of the country's rice supplies and exports.
Over the centuries, local residents have created an ingenious system of dykes, canals and waterways for irrigation and for transportation. Perhaps the best way to view the daily lives of the people in the Delta is to take a boat tour through some of these waterways. A brief float through the Delta provides a vivid glimpse of life in Vietnam's rural areas, where nearly 80% of the country's population still lives. A Pandaw river cruise is a deeply tranquil vacation experience.

We offer private tailor-made itinerary on Vietnam which offer you complete freedom of choice. Prices vary according to your selected accommodation, total number of passengers travelling in your party and seasonality of travel; please feel free to contact us for individual tailor-made itinerary as per your travel plan.

Newsletter Subscription: 訂閱最新旅遊資訊
Site Map · Privacy Policy 私隱政策(只附英文版)
© 2020 Exotic-Holidays.hk · All Rights Reserved.