Home > Destinations > Asia > Bhutan > Explore
---
THIMPHU 廷布 (2,400m/7,875 ft)
The capital town of Bhutan, and the center of government, religion and commerce, Thimphu is a lively place, an interesting combination of tradition and modernity. It is home to the Bhutanese Royal Family, the Royal Government and to several foreigh missions and development projects. It is also home to civil servants, expatriates and the monk body, Thimphu maintains a strong national character in its architectural style. Bhutan's only golf course, a nine-hole circuit is situated next to the magnificent Tashichhoedzong.
WHAT TO BE SEEN IN THIMPHU?
National Memorial Chorten 國家紀念碑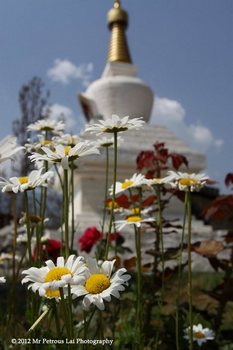 The building of this chorten was originally the idea of Bhutan's third king, H.M. Jigme Dorji Wangchuck ("the father of modern Bhutan"), who had wished to erect a monument to world peace and prosperity, but was unable to give shape to his idea in his lifetime due to pressures of state. Afer His Majesty's untimely death in 1972, the Royal Family and Cabinet resolved to fulfill his wishes and erect a memorial that would perpetuate his memory and also serve as a monument to peace. The National Memorial Chorten was consecrated on Juy 28, 1974. The finely executed wall paintings and delicately fashioned statues within the monument provide a deep insight into Buddhist philosophy.
Tashichhodzong (大西丘宗)
The "fortress of the glorious religion", was initially erected in 1641 and rebuilt by King Jigme Dorji Wangchuck in the 1960s. Tashichhodzong houses some ministries, his Majesty's secretariat, and the central monk body. It is open to visitors during the Thimphu Tsechu (held in autumn) and while the monk body is resident in its winter quarters in Punakha.
Simtokha Dzong
This dzong, built in 1627 by Shabdrung Ngawang Namgyal, stands on a low ridge 8km. down the valley from Thimphu. The Institute for Languages and Culture Studies is located here. The most noteworthy artistic feature of this dzong is the series of over 300 finely worked slate carvings behnd of the prayer wheels in the courtyard.
National Library國家圖書館
The National Library was established in the late 1960s primarily to conserve the literary treasures which form a significent part of Bhutan's cultural heritage. It now houses an extensive collection of Buddhist literature mostly in block-printed format, with some works several hundred years old. This collection, known as the Choekey Collection, mainly comprises Buddhist literature written in Choekey, the religious script of Northern Buddhism, but also includes works written in Tibetan and Dzongkha, Buddhist's national language. There is also a small Foreign Books Collection, stock of which mainly comprises works written in English, with subject interest on Buddist studies, Bhutan, the Himalayan region and neighboring countries.
Opening hours:
Monday-Friday: 9a.m – 5p.m(Summer): 9AM – 4PM(Winter).
Saturday/Sunday & National Holidays- Closed.
Institute for Zorig Chusum
Commonly known as the Painting School, the Institute offers a six-year course on the 13 traditional arts and crafts of Bhutan. On a visit one can see students learning the various skills taught at the school.
Opening hours:
Monday-Friday: 2p.m – 4p.m.
Saturday: 9a.m -12 noon
Closed on Sundays, National Holidays and winter holidays.
National Institute of Traditional Medicine
In Bhutan, equal emphasis is given to both allopathic and traditional medicines. The rich herbal medicines made up from medicinal plants abundant in the kingdom are prepared and dispensed here. The Institute is also a training school for traditional medicine practitioners.
Monday – Friday: 9 AM – 5 PM (summer), 9 AM – 4 PM (winter)
Saturdays & Sundays and Public holidays - closed.
Visits allowed only till museum and the library. Therapy and pharmaceutical unit are restricted.
Fork Heritage and National Textile Museum 民間博物館
These museums, both of which opened in 2001, provide fascinating insights into Bhutanese material culture and way of life.
Opening hours:
Monday – Friday: 9a.m – 5p.m (summer)
Saturday: 10.30 a.m – 1 p.m.
Sunday: 11.30 a.m – 4 p.m.
Handicraft Shops
A wide assortment of colorful, hand woven textiles and other craft products is available for purchase at the government-run Handicrafts Emporium and many smaller crafts shops around the town.
Weekend Market
Most of the Thimphu's population and many valley dwerllers converage on the bustling weekend market, held down by the river. A wide range of foodstuffs and local arts and crafts are sold at the market, which runs from Friday afternoon to Sunday. A visit to the market provides great photo opportunities, as well as the chance to mingle with local people and perhaps buy souvenirs.
All information are given for your reference. They are subject to change without giving any prior notice.

Newsletter Subscription: 訂閱最新旅遊資訊
Site Map · Privacy Policy 私隱政策(只附英文版)
© 2020 Exotic-Holidays.hk · All Rights Reserved