Home > Destinations > Asia > Bhutan > Explore
---
PUNAKHA 普那卡(1,300m/4,265 ft)
Punakha served as the capital of Bhutan until 1955 and still it is the winter seat of the Je Khenpo (Chief Abbot). Blessed with a temperate climate and fed by the Pho Chu (male) and Mo Chu (female) rivers, Punakha is the most fertile valley in the country. There are splendid views from Dochu-la pass (3,088m/10,130ft) on the Thimphu-Punakha road.
It is about 2 1/4 hours drive from Thimphu across Dochu-la pass. Once you cross the pass, you wind down into a fertile valley and meader along a gently flowing aquamarine river that leads you to the Punakha Dzong, the second dzong to be built in Bhutan.
WHAT TO BE SEEN IN PUNAKHA?
Druk Wangyal Chortens at Dochula (108 佛塔)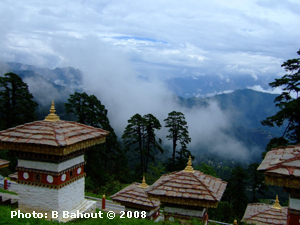 On the way to Punakha from Thimphu is the Dochula pass from where a beautiful panoamic view of the Himalayan mountain range can be seen, specially on clear winter days. The beauty of this place is further enhanced by the Druk Wangyal Chortens - 108 stupas built by the eldest Queen, Her Majesty Ashi Dorji Wangmo Wangchuck.
Punakha Dzong 普納卡宗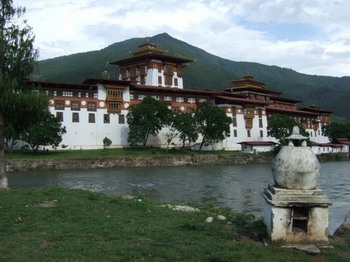 Placed strategically at the junction of the Pho Chu amd Mo Chu rivers, the dzong was built in 1637 by Shabdrung Ngawang Namgyal to serve as the religious and administrative center of the region. Damaged over the centuries by four catastrophic fires and an earthquake, the dzong has been fully restored in recent years by the present monarch.
It is a stunning example of Bhutanese architecture, sitting at the fork of two rivers. The dzong open for visitors during the Punakha festival (early spring) and in the summer months, after the monk body has returned to Thimphu.
Punakha is a sub-tropical valley where food grains, vegetables and fruits grow in abundance.
A short drive up the valley is the Khamsum Yulley Choretn (stupa) which was constructed in 1992. It is now being one of the three such chortens in the world and being the National Museum Chorten in Thimphu.
Khamsum Yulley Namgyel Chhorten 卡森耶里納紀念碑
Built by the third Queen, Ashi Tshering Yangdon Wangchuck this chhortens is a splendid example of fine Bhutanese architecture and art and is the only one of its kind in the world. It has been built over eight and a half years and its details have been drawn from religious scriptures.
All information are given for your reference. They are subject to change without giving any prior notice.

Newsletter Subscription: 訂閱最新旅遊資訊
Site Map · Privacy Policy 私隱政策(只附英文版)
© 2020 Exotic-Holidays.hk · All Rights Reserved