Home > Destinations > Asia > Bhutan
---

BHUTAN 不丹
Land of Happiness
世界上最快樂的國家
Bhutan Tourism Policy
Bhutan's tourism sector is regarded as one of the most exclusive travel destinations in the world. Bhutan enjoys a reputation for authenticity, remoteness and a well-protected cultural heritage and natural environment.
Bhutan ranks among the world's top travel destinations but very few visitors make the journey. The Royal Government, since the inception of tourism in 1974, has adopted a very cautious approach to tourism growth and development. The Bhutanese tourism industry is based on sustainability. The principle being "Tourism must be environmentally and ecologically friendly, socially and culturally acceptable and economically viable".
It has to do with the kingdom's "High Value, Low Impact" tourism policy, designed to preserve the nation's rich cultural heritage. You might discover a land and people set in a rare balance of modernity and tradition, beauty and harmony.
With a mandatory minimum daily expenditure, it is not a location for budget travellers, but with that, you can have all your guides, porters, meals, accommodations, entry permits and fees included. What you really get in return, however, is the fact that you are sharing one of the world's only authentic Himalayan cultures with just around 15,000 other people every year. Camping treks are confined to the spring and autumn seasons, day walks, bike rides and sightseeing trips are possible all year round.
All visitors to Bhutan must book through a government-approved tour agency and pay the full price of the trip before arrival for visa application.
Bhutan Government sets a minimum price per day per day. That cost varies by season and includes the below:
Accommodation in a Government-approved 3 stars hotel/lodge on twin sharing basis,

Meals: Breakfast, Lunch and Dinner. On the day of departure, breakfast will be provided. Cost for any additional eatables will be borne by the traveller.

Transportation by land,

Camping Equipment and Porter Services for Treks. This includes sleeping tents and sleeping bags, dining, kitchen, toilet and shower facilities, heaters, guide, cook, horsemen and a helper.

All government royalties & taxes,

entrance fees for all tourist sites

Service of local English speaking guide.
Geography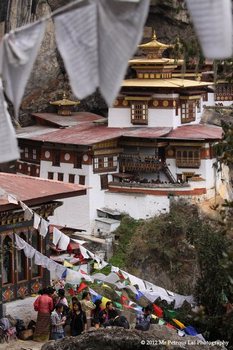 The Kingdom of Bhutan lies in the eastern Himalayas, between Tibet to the north and the Indian territories of Assam and West Bengal to the south. The Kingdom has a total area of about 47,000 square kilometres. Located in the heart of the high Himalayan mountain range, Bhutan is a land-locked country surrounded by mountains. The sparsely populated Greater Himalayas, bounded to the north by the Tibetan plateau, reach heights of over 7,300 metres, and extend southward losing height, to form the fertile valleys of the Lesser Himalayas divided by the Wang, Sunkosh, Trongsa and Manas Rivers. Monsoon influences promote dense forestation in this region and alpine growth at higher altitudes. The cultivated central uplands and Himalayan foothills support the majority of the population. In the south, the Daurs Plain drops sharply away from the Himalayas into large tracts of semi-tropical forest, savannah grassland and bamboo jungle.
When to Go?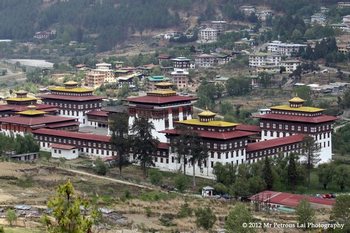 Even though Bhutan is a year-round destination, climate is certainly a consideration when planning your journey, especially if you are trekking. However, Bhutan's altitude range, from subtropical valleys to alpine peaks, and its busy festival calenda means you can visit Bhutan at any time of the year to explore its attractions and witness colorful festivals.
The most popular time to visit Bhuta is during its autumn season (Sept-November). The weater is milder, the skies are generally clearer making it particularly suitable for hiking and trekiking.
Spring (Mar-May) can be cloudier and have more rain than autumn, however, the wildlife and flowers are at their most vivid. The magnificient rhododendrons, magnolias an dother wildflowers are in bloom and birdlife is abundant. Many of the large festivals take place during these seasons.
Winter (Dec-Feb) can be quite cold, however, the skies are usually clear providing good photographic opportunities, and there are also fever tourists around. PLease note that in January and February snow may block some mountain passes restricting access from the west.
Trip to Bhutan can be planned throughout the year but best months are March, April, May, September, October and November. There are several festivals taking place during these months, offering an added attraction.
Religion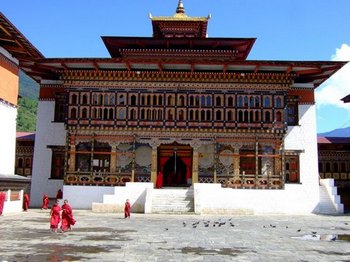 Bhutan is the only country in the world to retain the Tantric form of Mahayana Buddhism as its official religion. The Buddhist faith has played and continues to play a fundamental role in the cultural, ethical and sociological development of Bhutan and its people. It permeates all strands of secular life, bringing with it a reverence for the land and its well being. Annual festivals (tsechus and dromches) are spiritual occasions in each district. They bring together the population and are dedicated to Guru Rinpoche or other deities. Throughout Bhutan, stupas and chortens line the roadside commemorating places where Guru Rinpoche or another high Lama may have stopped to meditate. Prayer flags dot the hills, fluttering in the wind. They allow Bhutanese people to maintain constant communication with the heavens.
Cuisine
Bhutanese Cuisine includes a variety of dishes, mainly red rice, meat (pork, beef, chicken, fish and yak meat), cheese and lots of chillies. Most traditional dishes are fiery. The ema datshi, a dish of chillies with cheese, could certainly be considered to be the national dish. Other traditional dishes include puta, buck-wheat noodles, hontay, buckwheat dumplings filled with cheese and spinach or turnip, momo, flour dumplings filled with meat or cheese and cabbage, suja, salted butter tea, and dheysee, saffroned sweet rice. Visitors can also be served food more suitable to western tastes ranging from Continental to Chinese. Bhutanese dishes are usually tempered a little to suit the palates of the newcomer. The adventurous can always request a taste of the "real thing".
Festival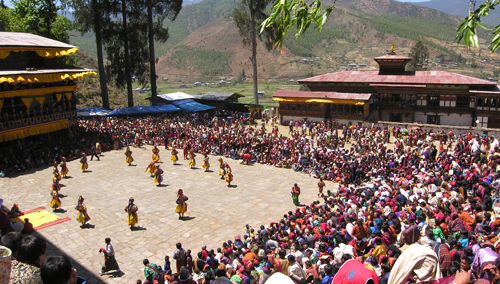 One of the highlights for a visit to Bhutan is to attend a tsechu or festival held at major dzong (fort-monastery). Held in honour of Guru Rinpoche, who brought Buddhism to Bhutan, the teschus are taken very seriously by the Bhutanese who have unquestioning faith in their religion. As well as bringing the devotee great merit, it is also a time of much rejoicing and merriment for all and a colorful and enthralling event that you will enjoy. Due to the high number of tourist at this time demand for accommodation is extremely high so specific hotels cannot always be confirmed in advance and there can be last-minute changes to the itineraries. Ealy booking is highly recommended if you wish to visit a festival during this time.
Sports
The national sport of Bhutan is archery. High-spirited competitions, usually accompanied by a banquet, are a part of all festive occasions. The archery targets are wooden slabs of about 30 centimetres in width and are aimed at from a range of 120 metres. Contests take place throughout the year. Other traditional sports include degor, in which a round flat stone is thrown at a target, khuru, darts, keshey, wrestling, and pung-do, shotput. In soksums, a spear held at either end, is thrown at a target; in sherey parey, a contest of strength, one man grasps the wrist of his opponent, who must free himself in order to win. Today, most international sports such as soccer, basketball, volleyball, tennis, table tennis, badminton and golf are also played with much enthusiasm.
Restricted Area
Not all areas or religious establishments are open to tourist. This is to ensure that monastic life can continue unhindered. Most of dzongs and lhakhangs are still homes to thousands of monks. Other areas are closed due to environmental concern. Access to Bhutan Entry points into Bhutan are by road through Phuentsholing in the south or or by air at Paro. Druk Air, the national carrier, is the only airline servicing Bhutan. There are 4 flights each week from Bangkok, 3 flights each week from Calcutta, and 2 flights each week from New Delhi and Kathmandu. Tourists to Bhutan are obliged to use Druk Air either on entry into or exit from the country. Leaving Bhutan from the eastern boarder town of Samdrup Jongkhar is also possible.
Accommodation
There are no star categorized hotels in Bhutan but all the hotels are approved by Department of Tourism and maintains a good standard of cleanliness and services. Please do not expect the standard of hotels to be similar to the hotels in other developed countries. All the hotels have private bathroom attached with hot water and heating systems when required. There are luxury hotels like Zhiwaling and Uma in Paro, Taj Tashi in Thimphu, Aman in Gangtey, Thimphu, Paro, Punakha and Bumthang. If you wsik to stay in the above mentioned luxury hotels, a room supplement charges (as per category of rooms) above the normal tour cost would apply.
Money Exchange
The Bhutanese currency is called the Ngultrum and is equivalent to the Indian rupee. (approx USD 1 = Nu 43). Currency notes are available in various denominations:
Nu.1000
Nu.500
Nu.100
Nu.50
Nu.10
Nu.5 and
Nu.1
Coins are available in denominations of chertrum (Ch): Ch.50 and Ch.25
Foreign currency is exchangeable on arrival at the airport,or in banks. It is advisable to change your currency in Paro or Thimphu as it may be more difficult to change in small towns.
Most travellers cheque are accepted but shops generally charge a levy on credit cards. Payments can sometimes be made with American Express, VISA and the JCB cards. Payment by credit cards are mostly accepted in Thimphu and Paro only. There is no credit card, visa card nor foreign currency ATM card facilities.
In general cash is always more convenient, particularly in the districts outside Thimphu, Paro and Phuentsholing towns.
Transportation in Bhutan
Driving time between various places in Bhutan Mode of transport within Bhutan is by motor vehicles only. There are no domestic airlines or trains. However, motor roads are well-maintained and connect to all major sightseeing places. The main highways runs from west to each connecting all the major towns. The mountainous terrain and winding roads restrict the average speed of vehicles to less than about 30 km/hour. During the moonsoon months, sometimes rains can disrupt travel and unexpected changes might occur in itineraries, but every effort will be made to stay as close to the original programme as possible.
Organized Tours in Bhutan
As per the kingdom's tourism policy, all tours to the country are in the form of all-inclusive package tours with the government setting the tariff. Independent travel is not permittted and tours need to be booked through a tour operator. The price is all-inclusive accommodation in the best hotels and lodges with transportaton, guides, transfers, museum fees and meals all inclusive. There is no restriction on the number of persons travelling to Bhutan. Even individual single traveller in private tour are welcome.
We organise different kind of tours to Bhutan as according to your special request and preference like:
Buddhist travel programs including visit of the kingdom's spiritual sights with a local Buddhist guide,
Sessions with Buddhist scholars with lectures and meditations,
Design special ceremonies for the practicing Buddhist,
Guided classic Royal Enfield (350-500cc) motorcycle tours,
Personalized fly fishing and other customized fishing programs (catch and release programs),
Golfing at one of the world's highest golf course (featuring a fortress),
Ornithology, eco-tourism, ethno botany,
The weaver's trail; discovering traditional Bhutanese art form,
Adventure and cultural packages,
Wide range of trekking options,
Conference packages,
Home stay & luxury hotel upgrades,
Rafting, kayaking, mountain biking,
photography.



Travel by Air
Travel by Land
Bhutan has only one International airport. There are 2 carriers: Drukair and Bhutan Airlines, connect Bhutan to their destinations that include Bangkok, Delhi, Kolkata, Bagdogra, Bodh Gaya, Dhaka, Kathmandu, Guwahati and Singapore.
Flying into Bhutan, especially in fine weather, will give you a lifetime experiences as you enjoy spectacular views of some of the world's highest mountains, such as Mt. Everest, Lhotse, Makalu and Kangchenjunga, at their best. It is typically an exciting experience when one descends into one of the world's most challenging airports at Paro. It will bring you closer to the mountaintops than most other flights in the world do.
The country's international airport is connected to the rest of the country by three domestic airports. The domestic airports are located at Yonphula in eastern Bhutan, Bumthang in central Bhutan, and Gelephu in south-central Bhutan. In addition to this, Bhutan also has helicopter services for your personalized tours.

Travel by Land
By Air
There are 3 mian entry and exit points for tourissts who choose to travel to Bhutan by land, The Phuentsholing in the south-western, Gelephu in the south-central and Samdrup Jongkhar in the south-eastern part are the only land border areas open to tourists on the country's southern border with India.
Most of the entry points of Bhutan are not far from some of the airports in India. The town of Phuentsholing is located approximately 170km east of INdian national airport at Bagdogra. The district of Samdrup Jongkhar borders the Indian district of Darranga, Assam and is approximately 150km away from Guwahati, the capital city of Assam.
Visa
With the exception of visitors from India, Bangladesh and Maldives, all other visitors to Bhutan need a visa. Visas are issued only when a confirmed booking through a Bhutanese tour operator has been made.
Visa is approved in advance and a visa clearance number is issued by the Department of Immigration under the Ministry of Home & Cultural Affairs. Without the Visa Clearance number, tourists cannot board the flight or enter the country. A copy of the visa clearance is forwarded to the concerned airlines stations and other entry points by the concerned Department. You will also be provided with a copy of the visa clearance for your record. Actual visa is stamped on arrival. This visa clearance is also required at time of issuing air tickets.
Food & Drinks
Bhutanese food is generally good. Local food is heavily seasoned with red chilies and can be quite hot. However, more adventurous can try the local delicacies like the tasty and fiery the national dish of Bhutan, Emma Datshi which is made with chilies and local Bhutanese cheese. Most hotels provide meals in buffet-style. There are usually continental Indian, Chinese and Bhutanese dishes. The food in hotels is often the best in town, but in main towns now there are few restaurants increasingly become popular. All tourist hotels have good selection of international and Bhutanese beverages.
Health Information
No vaccination is currently required for entry into Bhutan. However, if you are arriving from an area infected with yellow fever, you are required to have a yellow fever vaccination.
If you are arriving from Cholera infected area then officials may ask for evidence of Cholera vaccination. Anti-malarial medication is recommended for all travelers to Bhutan who are visiting rual areas in the districts that border India.
On the tour in Bhutan, there are long drives, and roads are winding so medication for motion sickness is strongly suggested. You should also pack an adequate supply of any prescribed medications you are require while travelling.
Please also consult your family doctor about your health condition to high-altitude sickness. After a brief period of acclimatization, most people do not suffer from altitude sickness; but elderly travelers or those with high blood pressure or heart conditions need to exercise caution at high altitudes.
All infomation are given for your reference. They are subject to change without giving any prior notice.


Newsletter Subscription: 訂閱最新旅遊資訊
Site Map · Privacy Policy 私隱政策(只附英文版)
© 2020 Exotic-Holidays.hk · All Rights Reserved