Home > Myanmar > 10 Days Spiritual Myanmar Tour
---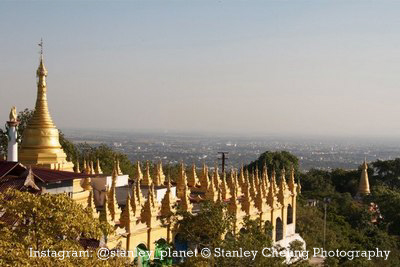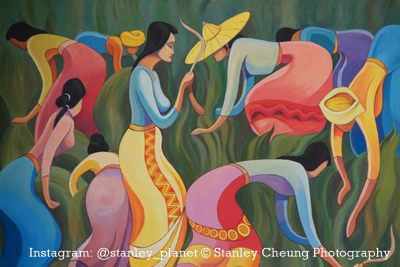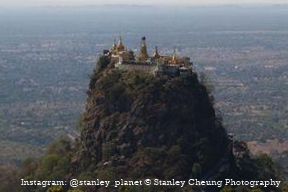 10-DAYS SPIRITUAL MYANMAR
Yangon ~ Golden Rock ~ Bago ~ Ava ~ Mandalay ~ Sagaing ~ Amarapurna ~ Mt Popa ~ Bagan
仰光∼金岩石∼巴戈∼艾娃∼曼德勒∼實皆∼亞耿拉勃拉∼山波帕∼蒲甘
| | |
| --- | --- |
| Day 01 | Hong Kong/Yangon 仰光 |
Upon arrival, you will be greeted by your guide and transfer to the hotel.
This afternoon, we'll venture downtown to explore the diverse city centre with its range of architecture, ethnicities and religions. We'll start in China Town at a traditional Chinese Temple and go for a short walk through the lively streets of this neighbourhood. You will likely pass by a mosque, synagogue and Hindu Temple.
We'll continue to Sule Paya, a golden stupa built to enshrine a hair of the Buddha. There is an option to meet with a palm reader near Sule (own account). Many Burmese consult with a palm reader or astrologist on a regular basis and especially before a big event such as a wedding, examinations or the birth of a baby.
Then, take a short walk to the Post Office, passing many colonial-era buildings including the famous Strand Hotel.
Overnight in Yangon.
OPTIONAL ACTIVITY:
Wake up early this morning and head to Shwedagon Park. Every morning at 05.30, locals gather to practice Tai Chi and you can join them in their exercises or simply watch. (On request we can arrange a private session with a Tai Chi teacher afterwards)
This morning after breakfast, we'll start the day with a visit Shwedagon Pagoda 雪克根寶塔, Myanmar's most revered Buddhist monument. The morning hours see many local pilgrims and monks come to pray and make offerings. Although the origins of the pagoda are unclear, the local legend states that the original structure was built 2500 years ago then renovated several times until taking its current shape in the 15th century. The 8-sided central stupa is 99 meters tall and gilded with gold leaf and is surrounded by 64 smaller stupas. Your guide will show you around the massive complex, explaining why this temple is so revered.
We will then visit the market at the bottom of the temple which sells a range of Buddhist goods, including monks robes, alms bowls and other items.
Continue with a visit to Kyaukhtatgyi Pagoda, home to a 70-metre long reclining Buddha. A visit to Kyaukhtatgyi provides a great overview of Buddhism with murals depicting the life of Buddha. The feet of the statue are carved with traditional symbols and often many locals gathering to pay homage and pray.
Next we visit Ahlein Ngar Sint. This temple is unusual in that it was founded by a monk that believed in supernatural phenomenon and its resident monks follow the same set of beliefs. The body of the founder is preserved in a glass case and, unusually, his hair and nails continue to grow.
We'll take a break midday for lunch. We recommend Feel Myanmar, a typical Burmese restaurant popular with the locals. (client's account)
This afternoon, transfer to Mahasi Monastery, one of the best monasteries in Yangon for meditation training. Mahasi is renowned as an 'Educational Spa' throughout Myanmar and many pilgrims come here to learn, study and practice Vipassana meditation. Mahasi usually requires a minimum of one-week of study for the local yogis, however they have granted special permission to our clients for a one-day program.

First, you'll meet with the venerable monk who will discuss the importance of meditation in the life of the Burmese Buddhist people (in English). A meditation teacher (monk) will be there to teach you techniques and methods that have been used for centuries. After an hour of instruction and discussion, it is time to practice what you have learned.
Move into the meditation hall for your practice session. Slip away into a deep meditative state, relaxing in the quiet, peaceful setting of Mahasi.
Overnight in Yangon.
| | |
| --- | --- |
| Day 03 | Yangon ~ Golden Rock 仰光~金岩石 |
Depart Yangon early this morning for a journey by road to Kyaikhtiyo and the Golden Rock. The drive takes around 5 hours to reach the Kyaikhtiyo base camp.
Near base camp have lunch at a local restaurant.
Travel by local, open-air truck along a winding road (45 minutes) where you will be dropped off at the top, just a few minutes away from the Golden Rock.
After about one hour of trekking, reach the Golden Rock. A huge boulder covered by gold leaf and delicately balanced on the edge of a cliff, Golden Rock is one of Myanmar's main pilgrimage sites. The pagoda here is said to hold a hair of the Buddha and Buddhists from across the country come here to pay homage.
Overnight near Golden Rock.
| | |
| --- | --- |
| Day 04 | Golden Rock – Bago - Yangon 金岩石~巴戈~仰光 |
After breakfast, return to the basecamp by open-air truck and begin the return journey to Yangon. En route, stop in Bago, the capital of the 16th century Mon kingdom.
We'll have lunch in Bago.
Your visit in Bago begins at Shwethalyaung Temple which houses a beautiful 55-meter long reclining Buddha. Take a short visit to a nearby Mon neighbourhood, a charming, quiet area typical of many rural neighbourhoods in Myanmar.
Continue to the Mon-style Shwemawdaw Pagoda, one of the most venerated in Myanmar and whose 114 meter spire is taller than the one at Shwedagon Pagoda. From here, we take a 15 minute walk to nearby Hinthar Gone Pagoda. The walk passes by many monasteries and nunneries and is a great opportunity to see the simple, peaceful lives of the monks and nuns.
At Hinthar Gone Pagoda there is an extravagant nat shrine with dozens of statues and offerings. Depending on the day, you may have the chance to witness a traditional nat dance. (Note: Schedule depends upon donor offering; can only be confirmed one day before arrival)
Next, visit Bago's strangest, and some would say creepiest, sight. Nearby Kanbawzathadi Palace, the Snake Monastery is a pilgrimage site to see the 9 meter, and reportedly century old, Burmese Python. The monastery is devoted to a Buddhist abbot who was reborn as a python.
On the way back to Yangon, if time allows, stop at the Allied War Cemetery near Htaukkyan. This beautiful, peaceful cemetery is the final resting place for over 27,000 Allied soldiers.
Overnight in Yangon.
| | |
| --- | --- |
| Day 05 | Yangon –Ava - Mandalay 仰光~艾娃~曼德勒 |
Early this morning transfer to the Yangon Airport for a flight to Mandalay.
On the way in from the airport, drive to the city of Ava where a short ferry ride will take you across the river to where your horse and carriage are waiting. Visit the old wooden Bagaya Monastery, a typical Burmese monastery with two buildings- one at the east for the Buddha and one at the west for the monks. There are many small villages located amid Ava's ruins and as you travel by horse and cart you'll get a glimpse of local life in the Burmese countryside.
Continue toward town for lunch and to check in to your hotel.
This afternoon explore the surroundings of Mandalay Hill. Stop at Shwe Nan Daw Kyaung, the Golden Palace Monastery, which is decorated with exquisite wood carvings. The walls are decorated with wooden figures such as nats (spirits), zawgyi (alchemist) and Hanuman (a mythological monkey). There are also, unusually, Christian angels there, but worshipped as nats. Nat shrines and nat figures are taking important roles in daily life of Burmese people and they can be found blended with the art of Buddhist figures.
Then you will visit to Ku Tho Daw Monastery, which is also known as 'the world's largest book' due to its 729 inscribed marble slabs. Each slab is housed by a small temple and it is amazing to see the whole complex.
Your final stop today is 63rd Street where, in the late afternoon, dozens of stalls set up on the street to serve snacks and offerings to the locals. Visit Maha Lawka Yan Hnain Aung Daw Mu Myat Swar Paya where you will witness Buddhist pilgrims grinding thanaka to scent water for washing the Buddha statues. There are also many other symbolic spiritual places at the temple, including a small pond with fish and turtles.
Overnight in Mandalay.
| | |
| --- | --- |
| Day 06 | Mandalay – Sagaing - Amarapura - Mandalay 曼德勒~實皆~亞耿拉勃拉~曼德勒 |
Your guide and car will pick you up at the hotel and take you to Sagaing, a 45-minute drive. Located across the Irrawaddy River, Sagaing is considered by many to be the Buddhist centre of Myanmar.
Drive up to Sagaing Hill to Umin Thonzeh. The name translates as '30 Caves Pagoda,' but in reality, the temple is one long hallway built alongside a hill with thirty recessed entrances giving it the appearance of being filled with caves. Inside the building you will find 45 Buddha images, an auspicious number 45, reflecting the number of years that Gotama Buddha was enlightened as a Buddha. Then proceed to Swan Oo Pon Nya Shin pagoda and enjoy wonderful panoramic view of Sagaing Hill with hundreds of stupas. If you look up at the ceiling at Swan Oo Pon Nya Shin you will find the old paintings describing the 16 scene dream sequence of Kawthala King. Finally continue to Kaung Mu Daw, an unusual hemispherical dome stupa that reaches 46 metres in height. At the bottom of the dome there are 120 niches, each with its own guardian nat.
Return to the bottom of the hills where we'll visit a local nunnery, a chance to the lifestyle of the Burmese nuns and learn more about their beliefs and daily activities.
Continue to the famed Mahamuni Pagoda. This pagoda is home to one of the country's most revered Buddha images which, over the years, has been covered with gold leaf, giving it an almost 'lumpy' texture. Mandalay is well known for its skilled craftsmen and as you tour traditional workshops, you will learn more about the city's cottage industries. Observe the production of wood carvings, kalaga tapestries, and gold-leaf where the techniques remained unchanged from those used centuries ago to craft items for the Royal Court.
Your final stop today will be in Amarapura. Visit Bagaya Monastery where you will find a collection of Buddha images from 16th to 20th centuries reflecting many different styles. It is also a good place to learn about mudras, the statue's hand gestures which have different meanings. There is also a library with a collection of palm leaves etched with various sections of Tripidaka. Some of the oldest books date back to the early 18th century.
Before departing Amarapura, go to U Bein Bridge for a walk along this 200 year-old teak bridge. The bridge was constructed of 984 teak posts that were once part of the deserted Inwa Palace. At 1.2 kilometers in length, it is the world's longest teak span. Enjoy a stroll along the bridge and fabulous views of the surrounding farms and streams.
Overnight in Mandalay.
| | |
| --- | --- |
| Day 07 | Mandalay – Mt Popa 曼德勒~山波帕 |
OPTION: Awake early this morning (0400) and transfer to Mahamuni Pagoda to witness the ritualistic washing of the Buddha's face.
After breakfast at the hotel, commence the scenic drive to Bagan and Mount Popa. Along the way, you will have an opportunity to visit local villages in order to learn about Myanmar culture, tradition and lifestyle of local people.
We'll reach Paleik after about 45 minutes and commence our visit at the famous 'snake temple'. This temple features a statue of Buddha surrounded by snakes. The locals believe that this image brings good luck. Thus, every day they gather pythons, which live at the temple, to wash them in water. They also clean the Buddha image daily with water. After visiting this unusual site, continue with a short-sightseeing tour around the town, which has Ava-style temples, before returning to Mandalay.
Continue the drive to Mt Popa and stop along the way for lunch in Meiktila.
Late this afternoon we'll arrive at Mt Popa, an extinct volcano standing 1518 metres high. Mount Popa has played an important role in Myanmar culture, religion and history since earliest times. Its shrine is dedicated to the worship of the 37 Nats, the Burmese ancient animist spirits.
Check in to Popa Mountain Resort with fabulous views over the surrounding area.
Overnight at Popa Mt Resort.
| | |
| --- | --- |
| Day 08 | Popa - Bagan 山波帕 ~ 蒲甘 |
After a leisurely breakfast, transfer down to the base of Mt Popa. Its shrine is dedicated to the worship of the 37 Nats, the Burmese ancient animist spirits. Learn about nats and nat worship as you climb the stairs to the top with your local guide. The view over the Myingyan Plain from the top of the volcanic peak is impressive (and the climb is optional!).
We'll then begin the drive to Bagan, a one-hour journey. Along the way we will stop in a local village where the people use the fruit of the palm tree to make wine and molasses. Witness the incredible production process. Upon arrival in Bagan enjoy a tasty lunch at a local restaurant.
Then check into your hotel and take time to relax and freshen up.
Late this afternoon, we will embark on a horsecart ride through the temple plains to one of Bagan's many stupas where we can walk to the top to watch the sun set.

Overnight in Bagan.
| | |
| --- | --- |
| Day 09 | Bagan Sightseeing 蒲甘 |
Today, we will visit a range of sites, providing a great overview of Bagan's history, culture and local lifestyles.
The journey begins with a visit to an elevated temple with spectacular views over the surrounding plains. This is the perfect introduction to the grandeur and scope of Bagan's architecture. Next continue to Ananda Temple, one of the most revered temples in Bagan and which is quiet in the morning, before all the tour buses arrive.
Afterwards, we will go to Myinkaba Village and visit Gubyaukgyi Temple which is noted for its beautiful mural paintings on its inner walls and well-preserved plaster carvings on its exterior. Nearby is Manuha Temple and Nan Paya Temple, two smaller temples with nice Buddha statues and stone work.
Then get to learn more about the local culture with a visit to two workshops producing Bagan's most famous products: lacquer ware and wood crafts. Watch as the skilled craftsmen use techniques passed down through generations to create beautiful items. Take a break with lunch and return to your hotel for a short rest, escaping the extreme heat of the midday sun.
Board a private river boat and set off upriver toward Kyauk Gu U Min. Throughout your Irrawaddy river cruise you will be treated to fabulous scenes of life on the water: fishermen, local ferry boats, riverside villages and views of the Bagan temples.
Arrive Kyauk Gu U Min on the eastern side of the river where a five to ten minute walk takes us to the temple. This beautiful temple has exquisite stone carvings depicting religious figures and flowers on the door. The temple itself is built against the side of cliff, behind the main hall of the temple you can enter a cave. Inside the cave there are several small niches where individuals can practice meditation. Legend states that the cave was built during the 13th century for the locals to hide from the invading Mongols.
After your exploration of Kyauk Gu U Min, you'll return to the boat for a relaxing cruise back to Bagan (around 1 hour). Transfer back to your hotel upon reaching Bagan.
Overnight in Bagan.
| | |
| --- | --- |
| Day 10 | Bagan- Yangon - Departure 蒲甘 ~ 仰光 |
After breakfast transfer to airport for flight to Yangon.
Have a nice holidays!
Remarks :
Every effort will be made to adhere to the planned itinerary. However, due to weather conditions and reasons beyond our control, changes to the itinerary might occur, for which the company accepts no responsibility.
Newsletter Subscription: 訂閱最新旅遊資訊
Site Map · Privacy Policy 私隱政策(只附英文版)
© 2020 Exotic-Holidays.hk · All Rights Reserved.