Home > Asia > Myanmar > Festival
---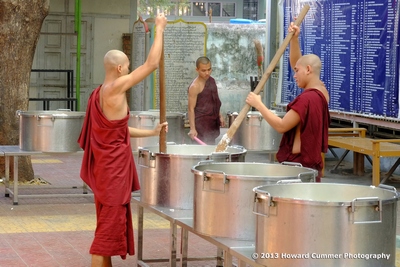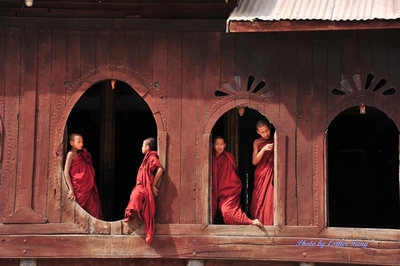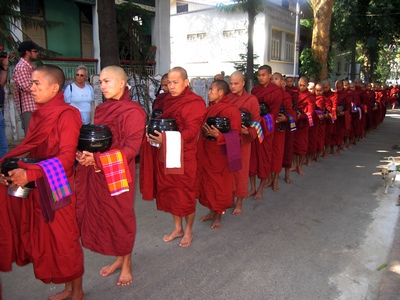 MYANMAR
Myanmar Festivals
Thingyan (The Water Festival and Myanmar New Years) - April
Thingyan (The Water Festival) is the most interesting and greatest occasion for merry-making with the largest number of people taking part in it throughout the country. During the Thingyan Festival, people pour water over one another to the melodious tunes of singing and dancing at the decorated pavilions. Pouring water signifies cleansing the body and mind of evils of the past year. During these auspicious days, Myanmar people perform a lot of meritorious deeds to usher in the New Year such as keeping Sabbath, going to pagodas and monasteries, offering food and alms to monks, paying respect to parents, teachers and elders, setting free fish and cattle and so on. Thingyan is a distinctive festival which is always awaited with great joy and excitment by Myanmar people every year.
Kasone Full Moon Day - May
Kasone festival is the pouring of water to the Bodhi tree. The festival takes place on the full moon day of Kasone; this day is also known as Buddha's day (because Buddha was born, and also reached enlightenment of Kasone Full Moon Day). Pilgrims pour water on the Bodhi trees in pagoda compounds to keep them fresh in the summer heat of May. The processions of men and women of all ages can be seen on the platform of local pagoda with their finest attire. Young women and men carrying earthen pots in their hands or their heads and go to pour the sacred Bodhi tree at the Pagoda platform.
Full Moon Day of Tabodwe
This is a competition between teams of men for donation of Glutinous Rice to the Great Lord Buddha in early morning on Full Moon Day. There are lots of people enjoy watching the demonstrations and competiition of cooking glutinous rice and after finished. Glutinous rice is distributed as donation to people and followed by the prize giving ceremony for the winners.
Full Moon Day of Thadingyut
This festival commemorates the time when the Buddha returned to earth after preaching in the abode of celestials during the three months of Lent. He descended at night and devotees greeted Him with lamps and lanterns. People decorate their houses with candles and coloured lanterns to symbolize this event. The festival of Light marks the end of Lent. Buddha's return is welcomed throughout the country with colourful illuminations. People also set off fireworks and release balloons into the sky.
Phaung Daw Oo Pagoda Festival - September
Phaung Daw Oo Pagoda is one of the famous principal pagodas which houses five Boddha images. This pagoda is the main attraction of Inlay Lake and is situated in the middle of the lake. Thousands of people from communities around the lake and villages in the surrounding mountains carry fruits and flowers on lacquer trays in their own boats and pay homage as the holy barge passes. Teams of the lake's famous one-legged-rowers compete in annual boat races.
Hot Balloon Festival - November
Taunggyi in Myanmar is famed for its Balloon Festival, with balloon competitions throughout the day and night. Day balloons are usually in the form of pagodas, and animals such as elephants, dragons or ducks. At night, the balloon are usually in the shape of a rugby ball, huge elongated paper balls with hundreds of small lighted multi color paper lanterns hung around their sides. The night balloons would string along fireworks and fire sticks which are set off mid-air creating a spectacular display.
Festival of Lights - November
Also known as Festival of Lights, it is held on Tazaungmon - the eighth month of Burmese calendar. This day marks the end of the rainy season. Tazaungdaing Festival is to honor the introduction of Buddhism in Myanmar. On this day, robe-weaving competitions to create special yellow monk robes named matho thingyan are held over the country during two consecutive nights (the preceding night and the full-moon night), most outstanding in Yangon's Shwedagon pagoda. Contestants will work continuously from night to sunrise. These robes will be offered to monks in the Kahtain ceremony. This tradition commemorates the well-known story about the Gautama Buddha's life. Understanding that the Buddha would soon pass away, the Gautama Buddha's mother, Maya, spent the whole night weaving yellow robes for him Her sister Gotami (Buddha's aunt) then kept on this tradition and offered new robes annually.
MONTHS
FESTIVALS
January
Ananda Pagoda Festival (Bagan)
Naga New Year Festival (Kachin, State)
February
Mahamuni Pagoda Festival (Mandalay)
Htamane (Sticky Rice Cooking) Festival (Nation Wide)
Pindaya Cave Pagoda Festival (Shan State)
March
Shwedagon Pagoda Festival (Yangon)
April
Shwemawdaw Pagoda Festival (Bago)
Thingyan Festival & Myanmar New Year (Nation Wide)
Popa Nats or Spirits Festival (Mount Popa)
May
Kason Fullmoon Dau (Nation Wide)
June
Nayone Festival of Tipitaka (Nation Wide)
July
Waso Fullmoon Day (Nation Wide)
August
Taungpyone Spirits Festival (Mandalay)
September
Phaung Daw Oo Pagoda Festival (Inle Lake)
Performing Arts Competition (Yangon)
October
Thadingyut Festival of Lights (Nation Wide)
Dancing Elephants Festival (Mandalay)
Shwezigon Festival (Bagan)
November
Tazaungdine Festival of Lights (Nation Wide)
Hot Air Balloons & Fireworks Festival (Shan State)
December
Popa Guardian Spirits Festival (Mount Popa)
Kyaikhtiyo Pagoda Nine Thousand Lamps (Kyaikhtiyo)
Newsletter Subscription: 訂閱最新旅遊資訊
Site Map · Privacy Policy 私隱政策(只附英文版)
© 2020 Exotic-Holidays.hk · All Rights Reserved.