Home > Asia > Myanmar > 10 Days Myanmar at a Glance
---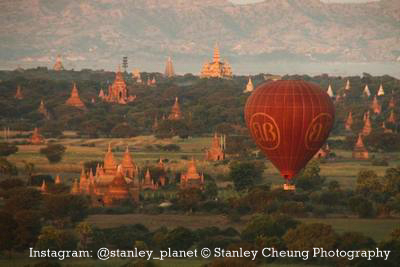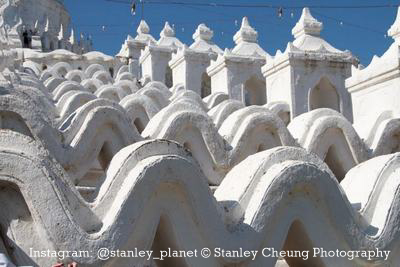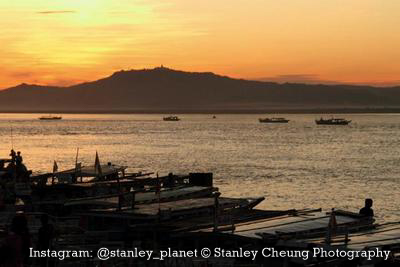 10-DAYS MYANMAR AT A GLANCE

Yangon ~ Mandalay ~ Bagan ~ Heho ~ Inle Lake ~ Nyaung Shwe ~ Inle Lake ~ Heho ~ Yangon
仰光∼曼德勒∼蒲甘∼希赫~茵麗湖∼Nyaung Shwe∼
茵萊湖
∼
希赫∼仰光
| | |
| --- | --- |
| Day 01 | Hong Kong/Yangon 仰光 |
Upon arrival, you will be greeted by your guide who will accompany you as you transfer to the hotel.
Yangon, formerly known as Rangoon, is a relatively quiet and charming city. Its impressive colonial and spiritual heritage makes it one of the most fascinating cities in Southeast Asia.
After lunch we'll visit Kyaukhtatgyi Pagoda, home to a 70-meter long reclining Buddha. A visit to Kyaukhtatgyi provides a great overview of Buddhism with murals depicting the life of Buddha. The feet of the statue are carved with traditional symbols and many locals often gather to pay homage and pray.
Continue to a local tea shop for a chance to experience an integral part of Burmese life: drinking tea! Select from an array of snacks and enjoy a coffee or tea as you sit amid businessmen, friends and families who gather at the tea shop to socialize or conduct business.
Next, your guided tour goes to Kandawagyi Park, one of central Yangon's greenest spots. Here you will see the glittering Karaweik barge, a replica of the royal barge, with the vast lake and views of Shwedagon in the background. Depending on the day of your visit Kandawgyi may be busy with local families who come here on the weekend to relax in the fresh air.
From here, continue to Shwedagon Pagoda 雪克根寶塔, the most revered Buddhist temple in Myanmar. Although the origins of the pagoda are unclear, the local legend states that the original structure was built 2500 years ago, then renovated several times until taking its current shape in the 15th century. The 8-sided central stupa is 99 meters tall and gilded with gold leaf and is surrounded by 64 smaller stupas and your guide will show you around the massive complex, explaining why this temple is so revered. Enjoy breathtaking views of the golden stupa from this vantage point.

Overnight in Yangon.
Distances and journey time:
Yangon Airport to Yangon city centre (20 km): 30 – 60 mins
Today is at your leisure to explore on your own.
Or, if you like, book one of our unique 'insiders' tours which offer something for everyone (note: supplemental charge will be applied)
Optional tours:
Blessings Trail: Discover the rich mixture of cultures and religions in Yangon with this half day walking tour. Visit Hindu Temples, Synagogues, Churches and Mosques as well as unique Burmese spiritual places including nat shrines and fortune tellers. Along the way we'll also explore markets, tea shops and other lively local sites in the busy downtown area.
Yangon for Foodies: Get a taste for Burmese food and culture with our half day guided 'Yangon for Foodies' tour. Visit some of the city's best fresh markets, sample tasty treats, sip a cuppa with the locals in a tea shop and enjoy a traditional curry lunch. From the sweet (fried donuts) to the strange (fermented tea leaf salad), you'll get to try it all! (Lunch included)
Pilgrimage Tour: Trace the path of a Yangon legend that stretches back 2000 years on our guided Pilgrimage Tour. Visit three stupas where many years ago sacred Buddha relics, brought from India, were enshrined by two merchant brothers. Join local pilgrims on this fascinating spiritual journey. (Note: although this program visits Shwedagon Pagoda again, we will visit it in the morning when the activities and atmosphere is very different to seeing it in the evening)
Art Gallery Tour: Explore traditional and modern Burmese art with a guided tour of Yangon's art scene. Visit a selection of local galleries displaying paintings, sculptures and photographs from famous art pioneers and emerging young artists. Enjoy a cocktail at House of Memories restaurant, a historic building once used as a headquarters for the country's independence movement and containing many remnants of this era including General Aung San's typewriter.
Overnight in Yangon.
| | |
| --- | --- |
| Day 03 | Yangon ~ Mandalay 仰光~ 曼德勒 |
Early this morning, transfer to the airport for the flight to Mandalay.
Upon arrival, begin your sightseeing tour of Mandalay with a visit to Mahamuni Pagoda 馬哈木尼佛塔. This pagoda is home to one of the country's most revered Buddha images which, over the years, have been covered with gold leaf giving it an almost 'lumpy' texture. Mandalay is well known for its skilled craftsmen and as you tour traditional workshops, you will learn more about the city's cottage industries. Observe the production of wood carvings, kalaga tapestries, and gold-leaf where the techniques remained unchanged from those used centuries ago to craft items for the Royal Court.
This afternoon, continue your tour of Mandalay with a visit to Kuthodaw Pagoda 庫特多寶塔, whose 729 marble stone slabs of Buddhist scriptures have earned it the title 'World's Biggest Book'. Continue to Shwenandaw Monastery , the only remaining building from the 19th century Royal Palace. This grand teak building is known for its exquisite woodcarving.
Head to the top of Mandalay Hill 曼德勒山 as the sun begins to set to enjoy magnificent views of the city and Irrawaddy River.
Overnight in Mandalay.

Distances and journey time:
Mandalay Airport to Mandalay city centre (41 km): 60 mins

| | |
| --- | --- |
| Day 04 | Mandalay at leisure 曼德勒 |
OPTIONAL ACTIVITY:
Balloon Experience Over Mandalay – As your hot-air balloon rises against the backdrop of Mandalay Hill, the first site to greet you is 729 white pitaka pagodas housing the world's largest book. Drifting above the vibrant city you'll witness barefoot monks collecting alms, bustling morning markets, boats coming alive on the Irrawaddy River and U Bein Bridge in Amarapura. (Note: available only from late- October to late-March; all flights weather permitting)
Today is at your leisure to explore on your own.
Overnight in Mandalay.
| | |
| --- | --- |
| Day 05 | Mandalay ~ Bagan 曼德勒~ 蒲甘 |
After breakfast at the hotel, transfer to the airport for the flight to Bagan (Nyaung Oo).
From the 11th to 13th centuries, when Bagan was the capital of Myanmar, the rulers constructed thousands of huge stupas and temples, many of which are still standing today on the banks of the Irrawaddy River.
On arrival, your journey begins with a visit to an elevated temple from where you will have a panoramic view of the magnificent plains of Bagan. Continue to the colorful Nyaung Oo Market where every day the locals come to buy and sell fresh produce and other goods before visiting the golden stupa of Shwezigon Pagoda for an introduction in to Bagan's rich history. Then, visit to nearby Wetkyi-In Gubyaukgyi, a cave temple with exquisite jataka mural paintings and the elegant Htilominlo Temple noted for its fine plaster carvings and glazed sandstone decorations.
This afternoon begin with a visit to a traditional lacquer ware workshop where you can observe the production of one of Myanmar's best-known handicrafts. Continue to Ananda Temple, an architectural masterpiece and one of Bagan's most beautiful temples. Built in the early Mon-style, Ananda contains two unique Buddha images whose expressions seem to change depending on the distance from which the statue is viewed.

From here, travel by horse cart for a tour passing Thatbyinnyu, the highest temple in Bagan, massive Dhammayangyi Temple, noted for its remarkable brickwork, and Sulamani Temple.
Enjoy an unforgettable sunset over the plains from the upper terrace of one of the temples.
Overnight in Bagan.

Distances and journey time:
Nyaung U Airport to Old Bagan (9 km): 20 mins
Nyaung U Airport to New Bagan (12 km): 20 mins
OPTIONAL ACTIVITY:
Balloon Experience Over Bagan - Start your morning with an incredible hot-air balloon flight over Bagan's temple-studded plains. Start your morning snack on pastries and croissants, and sipping coffee and tea as the balloon is inflated. Climb aboard before gently rising above thousands of gilded stupas and earthen temples all back-dropped by the impressive Irrawaddy River. A truly unforgettable and unique experience. (Note: available only from late- October to late-March; all flights weather permitting)
Today is at your leisure to explore on your own.
Overnight in Bagan.
| | |
| --- | --- |
| Day 07 | Bagan at leisure 蒲甘 |
Today is at your leisure to explore on your own. Or if you like, book one of our unique 'insiders' tours which offer something for everyone (note: supplemental charge will be applied)
OPTIONAL ACTIVITY:
Bagan Cooking Class: Local market. Local food. Local chef. Explore Bagan's culinary side with an exclusive Bagan Cooking Class. This is the first of its kind in Bagan, and the only immersive cooking class in Myanmar. We will be working with a local restaurant whose proprietor and chef has more than 15 years experience in Myanmar cuisine.
Bagan Temple Biking : The scope of Bagan is best appreciated on two wheels, whether by mountain, local or electric bike. Cycling along the paved roads and dirt paths lined with earthen-colored temples and stupas allows visitors to encounter a living landscape where farmers still till the land and herd goats. The two wheeled vantage point provides a grand perspective on the thousands of monuments packed within Bagan's 42 square kilometer archaeological zone, making this one of the best ways to capture one of the world's most photogenic destinations.
Overnight in Bagan.
| | |
| --- | --- |
| Day 08 | Bagan – Heho – Inle Lake - Nyaung Shwe 蒲甘~希赫 ~茵麗 |
fter breakfast, transfer to Nyaung U Airport for a flight to Heho. From Heho, a scenic one-hour drive leads to Nyaung Shwe, the gateway village to Inle Lake. Along the way, stop at the wooden Shwe Yan Pyay Monastery which features beautiful carvings and a collection of Buddha images.

Upon reaching the edges of Inle Lake, board a private motorboat to head out to Inle Lake, one of Myanmar's most spectacular sights. Pass villages built on stilts over the lake, inhabited by the local Intha people. Observe the leg-rowing fishermen and see their floating gardens built up from strips of water hyacinth and mud and anchored to the bottom with bamboo poles. Visit Phaung Daw Oo Pagoda, the lake's main sanctuary, which contains five sacred Buddha images covered in gold leaf.
Explore the local crafts of Inle Lake with a stop at the weaving village of Inpawkhone and a cheroot factory, where the typical Burmese cigars are made by hand.
If time permits, there may be time for a short walk through one of the lakeside villages.
Overnight on Inle Lake.

Distances and journey time:
Heho Airport to Nyaung Shwe (28 km): 45 mins
Nyaung Shwe Jetty to Hotel on Inle Lake (10 – 20 km): 30 – 60 mins
| | |
| --- | --- |
| Day 09 | Inle Lake at leisure 茵麗湖 |
Today is free at your leisure to enjoy the lake and its environs.
We can arrange a full day on the lake with a guide to visit the morning markets, villages and other sites.
Inle Lake Cultural Kayaking:
Crusing Through the waterways of Ywama with local escort and explore the the everyday lives of the local people, a lifestyle that has remained relatively unchanged for generations.
Overnight on Inle Lake.
| | |
| --- | --- |
| Day 10 | Inle Lake – Heho – Yangon - Departure 茵麗湖~希赫 ~仰光 |
This morning transfer to the Heho airport for your flight to Yangon. Connect to your onward international flight or ask your travel consultant about extending your stay in Yangon.
Have a nice holidays!
Remarks :
Every effort will be made to adhere to the planned itinerary. However, due to weather conditions and reasons beyond our control, changes to the itinerary might occur, for which the company accepts no responsibility.
Newsletter Subscription: 訂閱最新旅遊資訊
Site Map · Privacy Policy 私隱政策(只附英文版)
© 2020 Exotic-Holidays.hk · All Rights Reserved.