Home > Asia > China > Attractions > SHANGHAI
---
Shanghai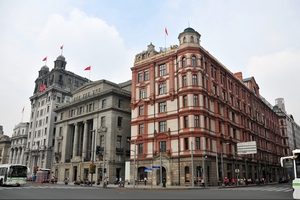 It is a showcase of 21st century China. Surrounded by classic 1930s colonial architecture, take a stroll along the waterfront Bund, the dazzling jewel in East Asia's pre-war crown, with views across the river to the towering skyscrapers of Pudong and a new Shanghai.
Visit the superb Shanghai Art Museum and follow the zig-zag paths threading through the Yuyuan Gardens to its famous teahouse.
An hour-long cruise on the Huangpu River gives a glimpse of China's bustling waterways, while neon-lit Nanjing Road provides perhaps the nation's most celebrated shopping experience. As China's economic powerhouse, Shanghai is replete with fine restaurants and swanky international hotels.
Suzhou & the Water Villages
Criss-crossed by canals and blooming with exquisite landscaped garden, Suzhou is a delightful destination only an hour by train from Shanghai. The waterways and tree-line avenues lattice an area famed for silk weaving, with techniques brought to vivid life at its famous Silk Museum. In the region there are picturesque water towns such as Tongli, Zhouzhuang and Zhu Jia Jiao, where ancient stone bridges cross winding canals and old merchants' houses line narrow cobbled streets. At their best these small towns offer a rare and fascinating insight into a bygone China, but can be busy in the high season so plan early is highly recommended.
Our private tailor-made itinerary offer complete freedom of choice. Prices vary according to your selected accommodation, total number of passengers travelling in your party and seasonality of travel; please feel free to contact us for individual tailor-made itinerary as per your travel plan.

Newsletter Subscription: 訂閱最新旅遊資訊
Site Map · Privacy Policy 私隱政策(只附英文版)
© 2020 Exotic-Holidays.hk · All Rights Reserved