Home > Destinations > Asia > Tibet
---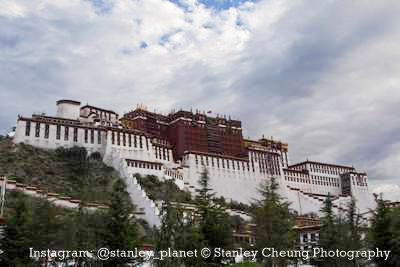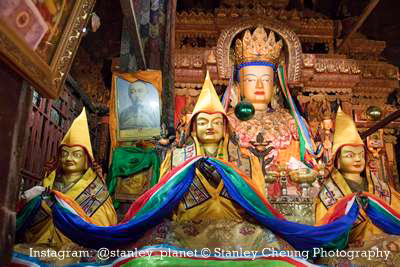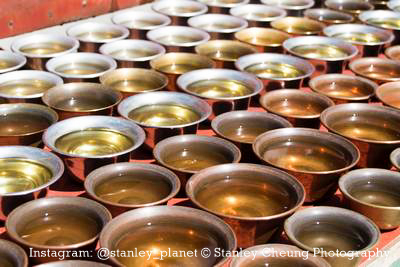 TIBET
西藏

The Journey of a lifetime
The Qinghai-Tibet Plateau, in the southwest of China, has long enjoyed reputation of being "the Roof of the World", where Tibet Autonomous Region with an average altitude of over 4,000 meters and an area of 1.2 million square kilometers occupies a major portion. The majestic Tibetan highland stands on top of the world and its unique cultural tradition has an international fame. This is a land of vast contrast with snow-capped mountains offering beauty unsurpassed and deep tropical rai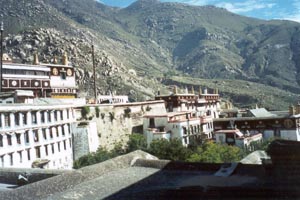 nforests in another, and with open pastureland against imposing mountains and cornier forests. The great Himalayas lies in its south with the towering Mt. Qomolangma standing above all world's peaks.
In addition to spectacular offerings of nature, the ancient Tibetan cultural tradition is most enchanting. Age old customs are tangibly represented by such architectural wonders as he ancient Shungshung Culture ruins, the Yumbu Lhakang Palace, the ancient Guge Kingdom, and Lhasa's glorious Potala Palace and Jokhang Temple. The population of the region consists primarily of Tibetans, all industrious and honest people full of wisdom and valor. Over the centuries, they have cultivated their very unique ethnic traditions, folklores and ways of life, and have made positive contributions to human cultural progress. This is a land of enduring enchantment and tantalizing mystery.
Tibet enjoys such unparalleled travel resources as the highest mountain range in the world, long and winding rivers, ancient ruins, palaces and monasteries of ancient splendor, folkloric activities and religious ceremonies. The Holy city of Lhasa is now Tibet's tourist center with routes extending to Shigatse, Shannan, Nyingchi, Ngari and Nakchu, covering over thousands of miles of scenic spots and places of interest.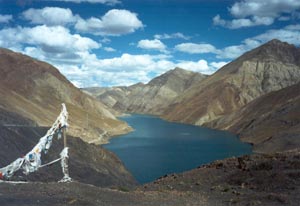 In General, the best season is from May through October. The weather during these months is surprisingly mild, with warm days and cool to chilly nights in the mountain.
July and August can be very rainy, receiving over half of Tibet's annual precipitation. By September, the days are cooler and the willow and poplar leaves begin turning yellow. Indian summers are not uncommon and may last into late October or early November, bringing sunny days and clear, crisp nights with temperatures often near freezing. But September and October can also bring surprise snowstorms to the mountains. December through February are the coldest time of the year but this is also a time when Tibet often experiences clear and sunny weather. In the high mountain areas, the snowfall is generally too great to consider winter treks. In March, the lower-altitude valleys start to warm and show signs of spring. A jacket is no longer needed on sunny afternoons and the winds start losing their chill.
May and June are usually the hottest and most windy months in Central Tibet. Wind is common throughout the year in most areas of Tibet. A cotton surgical-type mask is recommended for dusty road conditions.
** As in any mountainous region, the weather can change quickly and snow is possible any months of the year. Even in summer it is advisable to carry winter clothing particularly if you plan to ascend above 4,880 m. But more often the weather in Tibet is fine and wonderfully clear.
While May to October is considered the best time in terms of weather, the months from November to February have their own charm. The weather is comparately colder but it's the best time to experience the pilgrimage season. Hundreds of devotees travel to Lhasa from all over Tibet during this time.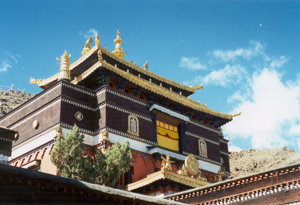 By Air from Chengdu (daily flight), Xining, Xian, Beijing, Guangzhou, Shanghai and Kathmandu.
By land from Nepal along the Lhasa-Kathmandu Friendship Highway. This 3 days 1,000 km journey is rugged but beautiful drive crossing several high passes, including the 5,190 meters Lakpa La Pass. Commercial trek and tour groups arriving at the border town of Zhangmu from Nepal are met at the Chinese immigration post by their local tour guide.
Other major land routes into Tibet include the Tibet-Qinghai Highway from Golmud, in Qinghai Province, and the long, rugged Tibet-Sichuan Highway from Chengdu and Kunming. From June to mid-September the less mountainous northern route from Chengdu to Lhasa via Nakchu is preferred for avoiding landslides and swollen rivers.
With the completion of Qinghai rail, you can now also travel by train from Beijing, Xining, Guangzhou to Lhasa.
Tour groups typically travel overland in Japanese four-wheel driver Landcruiser-type vehicles or are in minibuses. Public transportation in Tibet is usually limited to the regions around the larger cities.

In Central Tibet, Lhasa is the transportation hub with regular bus service to Tsedang, Shigatse, Kongpo, Nakchu, Golmud, and even Chengdu. The minibuses in Lhasa ply outlying towns such as Taktse and Tolung Dechen, and the taxis in Central Tibet's cities are a cheap and convenient transportation.
All foreign tourist or mountaineers visiting Tibet must have a valid passport and possess a visa issued by a Chinese Embassy.
Besides, The Chinese government requires that all travellers book their trip to Tibet through an officially sanctioned travel agency, who will take responsibility for all arrangements and all necessary travel permits in Tibet. All foreigners must have an Aliens Travel Permit(ATP). ATPs are issued by the Foreign Affairs Division of the Public Security Bureau in each prefecture capital and list the restricted areas you are allowed to visit and the travel dates. As of 1999, popular destinations such as Gyantse, Samye, Chongye Valley, and Everest Base camp are on the restricted list. The police fine foreigners who visit without an ATP. Certain areas are more tightly controlled and can only be visited if you have the proper permits, are accompanied by a licensed tour guide, and are using a vehicle and driver arranged through a travel agency.  
There are basically 2 types of accommodation available: Chinese and Tibetan. In both, facilities are very basic. Most hotels in Lhasa have restaurants and most rooms are equipped with televisions and hot water (many not 24 hours). Outside Lhasa, few hotel rooms have hot water or are heated, although thick quilts will keep you warm. Tibetan-style hotels are just as Spartan and some may have heaters in the room.
The Tibetan monetary system was replaced in the 1950s with the Chinese "renminbi" (people's money", which has units of currency called "yuan". One "yuan" is divided into tenths, called "jiao" and in Tibet and China, people call this denomination as "mao", and into 100 fen.  

Foods in Tibet differ in pastoral and agricultural areas. The staple foods include roasted highland barley flour ("Tsampa"), wheat flour, Yak meat, butter, and milk. Local dishes in pastoral areas usually consist of mutton sausage and dried Yak meat.

The flavor of Tibetan foods is usually fresh, heavy and strong. Salt, onion, and garlic are the main ingredients.
There are many restaurants in Tibet's major cities such as Lhasa, Shigatse, and Tsetang, all of which provide ample opportunity to try local and well prepared Tibetan cuisine.
In general, travel to Tibet represents the sightseeing tours but even the land is situated in average of above 13000 feet, this inaccessible land have lots of possibilities of trekking routes for the adventure seeker. Whether it is a pilgrimage trek or a mountain expedition, Tibet offers trekking trips from short one day to month long as per ones requirement. But the treks are not feasible in the wintertime as the temperature goes very low (-30 to -40oF) and also the days are much shorter.
Tibet's thin air and dust pose considerable medical problems if you are not in the best of health. In addition, the lack of medical facilities, doctors who speak little or no English, and the difficulties involved in evacuating a sick person do not recommend it to someone who is not at least reasonably fit. If you have heart or respiratory problems, ask your doctors about the advisability of a Tibet trip.  

Acute Mountain sickness can strike from about 3,000 metres upwards. It is more likely to affect those who ascend rapidly (such as by plane) and those who over-exert themselves. Teenagers seem to be particularly prone. On reaching hieghts above 3,000 metres, heart prounding and shortness of breath, especially on exertion are almost universal and a normal response to the lack of oxygen in the air. Acute Mountain sickness takes a few hours or days to come on and presents with headache, lassitude, dizziness, loss of appetite, nausea and vomiting. Insomnia is common and often associated with a suffocating feeling when lying down in bed. Keen observers may note that their breathing tends to wax and wane at night and their face tends to be puffy in the mornings - this is all part of teh syndrome. If the symptoms are mild, the treatment is rest, painkillers (preferably not Aspirin based) for the headache and anti-sickness pills for vomiting. Oxygen may help at very high altitudes.
The best way of preventing acute mountain sickness is a relatively low ascent and when trekking through the Himalayas to high altitude, some time spent in the foothills getting fit and adapting to moderate altitude is beneficial.

Upon arrival at places over 3,000 metres, a few hours rest in a chair and the avoidance of alcohol, cigarettes and heavy food will go a long way towards preventing acute mountain sickness. Should the symtoms be severe and prolonged, it is best to descend to a lower altitude and to reascend slowly or in stages. The symptoms disappear very quickly with even a few 100 metres of descent.

As you do not want to spoil your visit with illness, the most obvious course of action is prevention. Drink only bottled drinks, freshly-boiled water from your hotel, and tea. Carry a canteen while on the road and disinfect your own drinking water with tablets such as Puritabs. The air and your rapid breathing dries you out faster than you think. A large intake of liquid significantly helps your body acclimatise to the high altitudes.
Newsletter Subscription: 訂閱最新旅遊資訊
Site Map · Privacy Policy 私隱政策(只附英文版)
© 2020 Exotic-Holidays.hk · All Rights Reserved.