Home > Destinations > Africa > Morocco
---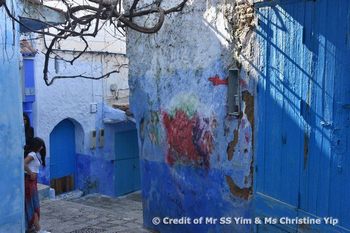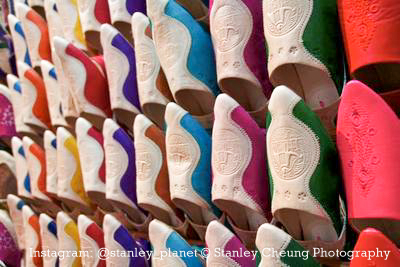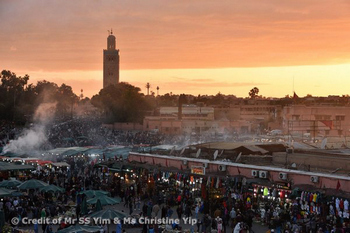 MOROCCO
摩洛哥
Morocco really is a world away. The narrow alleys of medinas, centuries old and encircled with solid ramparts, ring with the cries of artisans and craftsmen in a vivid swirl of colours and scents. Beyond the cities, towering mountains are home to hardy Berbers living in ancient mud-built villages pinned to sheer slopes, surrounded by steeply terraced fields. Valleys carve through arid landscapes and palm plantations surround fortified villages that peter out as the first tendrils of the Sahara rear up into golden dunes under the clear desert skies. As you pass through the country, the poeple you meet form one of the highlights of your journey, from the men in their distinctive hooded coats to the smiling women going about their daily business.
Morocco's history has seen Roman invasions, the advent of Islam borne by Arabian soldiers, and mighty Berber dynasties: each has left their own remarkable legacy. Ruins, mosaics, tombs and mosques all speak of a long and chequered past, while also forming an intrinsic part of Morocco's present. The legacy is not just a physical presence: Moroccan cuisine also bears witness to the country's multicultural history. Traditional Arab influences are overlaid with indigenous Berber flavours and more than a touch of French sophistication.
Morocco can be roughly divided into three climatic regions:
the higher interior of the Rif and Atlas mountain ranges,
the coast, and
the desert areas of the south.
Throughout the country the temperature varies considerably over the course of a day, and a sweater may be necessary even on a summer evening, whilst winter temperatures can fall low enough for a widespread frost with snow on the mountains. The coastal regions can be visited year-round: in the winter they are pleasantly mild, and bask in mid-twenties Celsius temperature in the summer. The higher interior can also be visisted year-round, although it does get cold in winter, with averages in the late teens Celsius.
The southern desert areas experience similar climate to the high interior, although summer temperatures are hot, the average hovering around 40C.
Moroccan food is one of the great pleasures of travelling around the country. Whether you eat in a restaurant or at a small soup stall in the souq, you will be delighted with the unique flavours of organic, fresh ingredients. Perhaps the most unusual dish is pastilla which is minced pigeon meat flavoured with sweet spices such as cinnamon and folded between layers of flaky pastry and usually topped with a dusting of sugar.
The national dishes are tajine and couscous. Tajine refers to the conical pots in which a mutton stew is normally cooked. Again, ingredients such as dates blend sweet flavours into a savoury dish. Couscous is semolina-like grains of half-baked flour that are repeatedly steamed and oiled so the grains do not stick together. There are cookery courses available at certain riads for those who want to find out more.
All information above are given for reference only. They are subject to change without giving prior notice.
Our private tailor-made journeys offer complete freedom of choice. The itinerary and accommodation are designed to give you a flavour of what is possible and can be tailored to suit your preferences. Prices vary according to your selected accommodation and season, please feel free to contact our Travel Specialists for information and enquiry.
Newsletter Subscription: 訂閱最新旅遊資訊
Site Map · Privacy Policy 私隱政策(只附英文版)
© 2020 Exotic-Holidays.hk · All Rights Reserved.