Home > Asia > Mongolia
---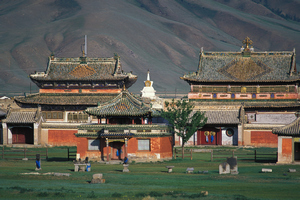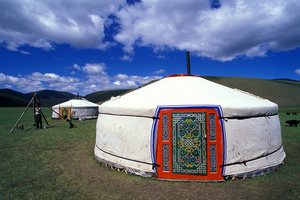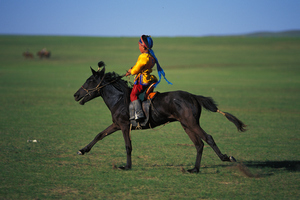 Mongolia
蒙古
Mongolia : In the steppes of Genghis Khan, a land of extremes
Known as "The Land of the Blue Sky", Mongolia is a remarkably sunny country, enjoying 250 sunny days a year. The country has one of the world's most dramatic climates, with extremes in both daily and annual ranges of temperature. Summer temperatures reach as high as 40C in the Gobi and 33C in Ulaanbaatar, while in winter the average temperature in most of the country is below the freezing point.
The extensive grasslands of the steppes covering the centre, eastern and western part of the land with a 360 degree view are the heart of Mongolia. The south is the domain of the Gobi (extending down into China), with large sand dunes areas and canyons in the Eastern Gobi, the so-called "dinosaur graveyard".
Mongolia is dotted with about 4,000 lakes, of which the most famous is Lake Hobsgol (alternatively spelled Khuvskhul), which is known as the "dark blue pearl of Mongolia". The network of rivers connecting these lakes offers abundant fishing. In the lake regions the landscape is both spectacular and immense, with towering snow-capped mountains as a backdrop in the distance.
Mongolia, in the steppes of Genghis Khan, the spirit of nature
The seemingly endless expanse of Mongolia's grasslands and deserts provides habitats for wildlife species such as the snow leopard, the Gobi bear, the wild camel, the wild mountain sheep, and the wild horse, to mention but a few. These many wild animals share the land and its resources with half of the country's people, the nomadic herdsmen who move by horse or camel in harmony with nature.
The country has to face the challenge of opening its doors. To the world while protecting its natural and cultural heritage. As its wilderness regions become more accessible, the Mongolian government has undertaken a process of creating Protected Areas and National Parks.
Tourists in the West have a key role to play in developing an eco-friendly and culturally sensitive approach to tourism in Mongolia, in order to respect and protect this unique form of nomadic life, one of the last such lifestyles still surviving on earth.
Territory

1,566,000 sq. km
Population
Mongolia's population is approx 2.8 million with average density of only 1.5 people per square kilometers, making it one of the scarest populated nations on earth. About a third of its people live in the capital city Ulaanbaatar. 95% of population are Mongolians, 4% Kazakh and 1% other national minorities.
Density
1.5 per sq. km
Terrain
Vast semi-desert and desert plains, mountains in the west and southwest, the Gobi desert in south and southeast.
Climate
Warm summers and cold winters.
Average summer temperature + 20C, average winter temperature -26C.
Average rainfall 200-220 mm.
Winter lasts from November to Last April.
Spring runs from May through June.
Summer is from July through to September.
Average altitude
1,580 m above sea-level
State structure
Mongolia is a unitary state and divided administratively into 21 Aimags and a capital city.
Aimags are subdivided into sums; sums into bags; a captial city into districts; districts into khoroos.
Capital
Ulaanbaatar (population approx. 800,000)
Religions
Buddhist Lamaism is the most popular religion. Muslim is practiced among Kazakhs. Ancient shamanist beliefs still exist among some Mongolians.
Language

The official language is Mongolian. Kazakhs in Bayan-Olgii among speak their native Kazakh. English is becoming more popular and is widely understood in Ulaanbaatar.

Most Mongols speak Russian as a second language because of Mongolia's seventy year experience of Soviet domination, but many also speak a third language. English, German, French and Japanese are widely spoken in the Ulaanbaatar.

Time
+ 7 hours to GMT
Currency
Tugrik, USD 1 = 1,215. No limit on foreign currency but must be registered at Mongolian customs. USD and Euros are accepted in hotels and restaurants. Hotels and tourist shops accept credit cards (American Express, Visa, Master card and Diners Club).
Electricity
The standard voltage is 220 volts/50Hz
Mobile telephone
GSM 900 network operated by Mobicom covers centres of provinces and Zamyn-Uud and Zuunkharaa. CDMA network operated by Skytel Company covers Bulgan, Darkhan, Selenge, Ulaanbaatar, Uvurkhangai and Zamyn-Uud.
Internet
Access is available in Ulaanbaatar at business centres (often located in hotels), Internet cafe and at the telephone exchange on province centres.
Health
No specific requirements. Visitors are advised to have medical insurance policy of their native countries. Safety: Mongolia is a very safe country.
Tourism Season
From 15 May to 01 October. July and August are the peak months.
Accommodation

There are 116 hotels in Ulaanbaatar, offering over 5,000 beds. There are many smaller hotels, guesthouses and hostels of varying standards. Outside the capital, comfortable tourist ger camps are available.

Hotels in Ulaanbaatar are graded as 3 and 4 stars. They are generally comfortable and offer in-room international standard bathroom facilities, TV with access to international channels, telephones with IDD, room service etc.

Most common accommodation outside cities on our expeditions is so-called ger camps. Made of latticed wood structure covered with felt layers and durable canvas, this dome shaped unique accommodation is heated by wood stove placed in the center and furnished with beautifully decorated wood-framed beds. Shower and toilet facilities are normally found in separate building outside the ger. Staying in ger is a memorable experience of Mongolian culture. Most visitors find their stays at ger camps to be among their most memorable experiences in Mongolia.

On many of our adventurous journeys to more remote areas we stay at tented camps. Tents of highest qualities, mattresses, chairs, dining tables are provided. When necessary we also provide portal shower and toilet facilities for the comfort of our guests. Our expedition staff set up camps and prepare meals and take care of all your needs. Tented camps allow you to interact more with the nature and visit the remotest areas of the country.

Food
Mongolian food includes beef, mutton, dairy products, pasta, rice and seasonal fruits and vegetables. A variety of restaurants in Ulaanbaatar offer traditional Mongolian food as well as European and Asian cuisine.
ALL INFORMATION ARE SUBJECT TO CHANGE WITHOUT GIVING PRIOR NOTICE.
Newsletter Subscription: 訂閱最新旅遊資訊
Site Map · Privacy Policy 私隱政策(只附英文版)
© 2020 Exotic-Holidays.hk · All Rights Reserved.