Home > Asia > Mongolia > Tour Suggestions > 10 Days Landmarks of Desert & Steppe
---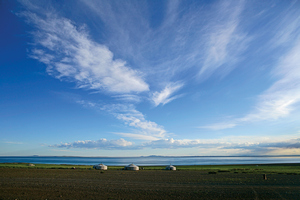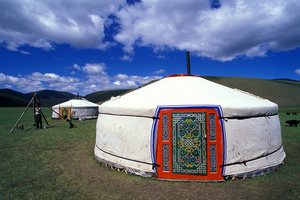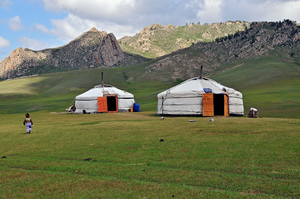 MONGOLIA
蒙古
10 Days Landmarks of Desert & Steppe

Tour level: Moderate
Tour description:
The Gobi desert covers 30 percent of the country's vast territory, stretching across the southern region of Mongolia. This region is rich in fauna with species ranging from argali sheep, ibex, snow leopard, lynx, wild ass, gazelles, saiga, wild Bactrian camel and Gobi bear. The region's flora comprise of over 400 species including many valuable medicinal plants. This region has also been the site of many ancient fossil discoveries.
This tour includes major travel routes in the Southern Gobi desert include the Bayanzag - flaming cliffs, Khongoriin Els sand dune, Yoliin Am and historic Orkhon River basin, ancient capital city Kharkhorum, Khustai national park an and natural beauty of Gobi en steppe area and cultural experiences.
Highlights:
Major travel routes in the southern Gobi desert, including the flaming cliffs at Bayanzag site following the trails of 1920's American explorer, Ray Chapman Andrews.
The Khongor Els sand Dunes - the largest sand dunes in Mongolia
Yoliin Am or Eagly valley, which is famous for its stunning beauty and rich flora and fauna.
| | |
| --- | --- |
| Day 01 | Ulaanbaatar arrival |
Arrival to Ulaanbaatar city of boulevards, blocks and contrasting with them jurtas' housing estates. Accommodation in hotel, breakfast and rest after journey. After Breakfast rest and free time, Lunch, History Museum gives you real insight into Mongolian origin and history, Natural History Museum offers nice chance to see petrified dinosaur skeletons and nestled eggs, Mongolian Intellectual Toy Museum, Visit main Square Sukhbaatar, Friendship Monument on Zaisan hill, National Folk Performance Concert with songs and contortion acts, Dinner.
Meals: Lunch and Dinner
Transport: 4WD Van
Accommodation in Ulaanbaatar
| | |
| --- | --- |
| Day 02 | Gobi desert ~ Yoliin Am |
Take a flight to Gobi Desert and check in tourist camp. Visit to Eagle valley well known as Yoliin Am that located in Gobi Gurvan Saikhan national park. It is end of the Altai mountain ranges and chance to see wild animals such as wild sheep, ibex, golden eagle and of course vultures.
Meals: Breakfast, Lunch, Dinner
Transport: 4WD Van

Accommodation: Ger
Drive to Khongor sand dune well known as Singing Dune. Khongor sand dune is one of the biggest sand dunes of Mongolia. It has an extraordinary length of approximate 100kms and 12 kilometers wide. There is an oasis near a river Khongor at the northern edge of the sand dunes. Hiking and camel riding along sand dune.
Meals: Breakfast, lunch and dinner
Transport: 4WD van
Accommodation: Ger
| | |
| --- | --- |
| Day 04 | Bayanzag ~ Flaming Cliffs |
Drive to Bayanzag, known as Flaming cliffs. Bayanzag is an important site for both archeologically and paleontological findings. Complete dinosaur skeletons and
eggs are excavated from red cliffs, which look like fire. American explorer Roy Chapman Andrew had discovered this area in early 20 century and getting famous all over the world. If you see carefully, you could find piece of bone or dinosaur egg. In afternoon, short hiking Gobi tree-saxaul forest.
Meals: Breakfast, lunch and dinner
Transport: 4WD van
Accommodation: Ger
Drive up to Ongi temple ruin. It was one of the Mongolian largest monasteries in the Gobi region. There are 2 temple ruins which were built up in 1780s. During repression in 1930s' these two temples destroyed and many lamas) were executed and imprisoned. If you get up early, you will have a chance to see some wild animals such as wild sheep, wolf etc…
Meals: Breakfast, lunch and dinner
Transport: 4WD van
Accommodation: Ger
| | |
| --- | --- |
| Day 06 | Kharkhorum Erdenezuu Monastery |
Drive to Kharkhorum. Late afternoon you will arrive in the city. And have short visit to Monument dedicated for Greatest Dynasties of Mongolia.
Meals: Breakfast, lunch and dinner
Transport: 4WD van
Accommodation: Ger
| | |
| --- | --- |
| Day 07 | Cultural day in Kharkhorum |
Stay in Kharkhorum and visit Erdenezuu the oldest Monastery and archeological site of Kharkhorum an ancient capital city of Mongolia. In the afternoon visit local nomadic family in order to learn their lifestyle.
Meals: Breakfast, lunch and dinner
Transport: 4WD van
Accommodation: Ger
| | |
| --- | --- |
| Day 08 | Khustai national Park |
Drive to the Khustai national park which is established in 1993 in order to facilitate reintroduction project of the Takhi, central Asian wild horse. Visit core zone of the park to see wild horses and other animal in the national park such as marmot, deer, red deer and more.
Meals: Breakfast, lunch and dinner
Transport: 4WD van
Accommodation: Ger
After breakfast drive to the Ulaanbaatar. Visit Gandan Monastery, which holds largest-scale Buddhist activity in the country. Shopping opportunity to cashmere and souvenir shops. In the evening, enjoy Mongolian folk Music and Dance Performance.
Meals: Breakfast, lunch and dinner
Transport: 4WD van
Accommodation: hotel
| | |
| --- | --- |
| Day 10 | Ulaanbaatar departure |
Transfer to Chinggis Khaan international airport and departure.
Meals: Breakfast
Transport: van
BON VOYAGE!
Our private tailor-made itinerary offer complete freedom of choice. Prices vary according to your selected accommodation, total number of passengers travelling in your party and seasonality of travel; please feel free to contact us for individual tailor-made itinerary as per your travel plan.
Newsletter Subscription: 訂閱最新旅遊資訊
Site Map · Privacy Policy 私隱政策(只附英文版)
© 2020 Exotic-Holidays.hk · All Rights Reserved.