Home > Asia> Nepal > Information
---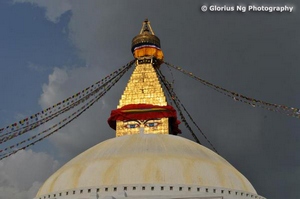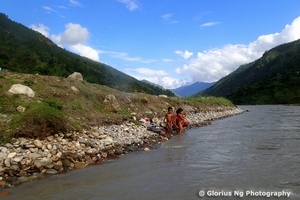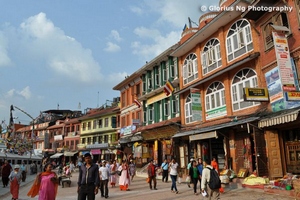 Nepal
Area

147,181 sq. km

Geography

Situated between China in the north and India in the south

Capital

Kathmandu

Population

22 Millions

Language

Nepali is the national language. However, travel-trade people understand and speak English as well.

Currency

Nepalese Rupee

Religion

Nepal enjoys the distinction of being the only Hindu Kingdom in the world. However, there is a harmonious blending of Hinduism and Buddhism.

Climate

Nepal has 4 major seasons:
1. Winter: December - February
2. Spring: March - May
3. Summer: June - August
4. Autumn: September - November

Nepal can be visited the whole year round.

People

Nepal has more than 61 ethnic groups and 70 spoken languages.

What to wear:

Light weight clothing is recommended for May through October. Warm garments are required in October - March. An umbrella or a raincoat is a must for the rainy season.

Foreign Exchange

Foreign currencies must be exchanged only through the banks or authorized foreign exchange dealers. The receipts from such transaction are to be obtained and retained. Visitors can exchange money at the foreign exchange counter at the airport upon arrival also. Indian currency Rs 500/ and Rs 1,000 /note is not allowed to be brought into Nepal and will not be exchanged and will not be accepted for transaction of any kind.

Getting Around:

Metered taxis are easily recognizable by the taxi sign and black number plates and can be hailed off the street. Metered tempos (three wheeler scooters) cheaper than taxis are also available. Battery run EV tempos are also available. No tip is expected. There are regular bus services within the three cities of the Kathmandu Valley. The bus terminal is located at Gongabu (new bus terminal) and Bagbazar (old bus terminal). Similarly, schedule bus services for outside the valley operate from the Gongabu Bus Terminal. In addition, one can also hire mountain or motor bikes at nominal rates. 
Average Temperature and Rainfall in Kathmandu
Month
Minimum (degree C)
Maximum (degree C)
Rainfall (in mm)
January
2.7
17.5
47
February
2.2
21.6
11
March
6.9
25.5
5
April
8.6
30.0
5
May
15.6
29.7
146
June
18.9
29.4
135
July
19.5
28.1
327
August
19.2
29.5
206
September
18.6
28.6
199
October
13.3
28.6
42
November
6.0
23.7
0
December
1.9
20.7
1
Attractions
Few destinations in the world can match Nepal in the variety of adventure tourism: be it mountaineering, trekking, mountain biking, nature tours, culture tours, pilgrim tours, white-water rafting, kayaking, canoeing, mountain flights, hot air ballooning, pony trekking, jungle safaris, bird watching, fishing, hang-gliding, ultra-light aircraft ride, bungy jumping, etc. In addition, we have several special interest tours like orchid tours, culture trek, honey hunting, village tours, fossil hunting, meditation courses and seminars, Shamanism-Panimism tour, cave culture, snow leopard and blue sheep trek and many more that take place throughout the year.
Trekking
Nepal is the ultimate destination for the trekking enthusiast - offering a myriad of possibilities from the short and easy to the demanding challenges of the snowy peaks. Easy, moderate or rigorous - there is something for every palate. Nepal has aptly been called a "A Trekkers' Paradise" as her terrain - mountains, bills and the Terai-offers some of the most spectacular trekking routes in the world. The immense contrasts in altitudes and climates found here support an equally spectacular mix of lifestyles, vegetation and wildlife. Trekking in Nepal is as much a cultural experience as a Himalayan adventure. In the shadows and foothills of the icy pinnacles of the Himalaya, one passes picturesque charming villages inhabited by diverse ethnic groups. Treks vary from expeditions, high altitude treks to simple easy paced walks.
Mountainerring
With eight of the highest peaks in the world, it is hardly surprising that Nepal has been the stage for some of the most outstanding achievements in the world of mountaineering. The dauntless icy peaks have since decades challenged the bodies and spirits of those daring enough to want to conquer the hulks. All inquiries and arrangements for expeditions have to make well in advance.
River Rafting / Kayaking / Canoyoning
Few rafting rivers in the world can match the thundering course of the rivers of Nepal originating from the snow meltdown of the Himalayan terrain. The rivers gush through the twisted canyons, winding through calm valleys where small settlements are perched on the banks, taming out only as they spill out into the Indian plains to merge with the Ganges. A river-trip is one of the best ways to explore the typical cross-section of the country's natural as well as the ethno-cultural heritage with massive doses of adrenaline buzz on our world caliber white-water thrills. An extreme sport popular in Europe, canyoning is now available in Nepal. Canoyoning give you the freedom to explore some of the most ruggedly beautiful, yet forbidden places in the world.
Jungle Safaris
Royal Chitwan and Bardiya National Parks and Royal Suklaphanta Wildlife Reserve offer exciting safari holidays. Jungle activities here include venturing into deep jungle on elephant back or 4-wheel drive to view wild animals in their natural habitat, canoe rides on the jungle rivers, nature walks, bird watching and village tour excursions.
Village Tours
Village tours allow visitors to experience a stay in a typical Nepali village. This gives visitors an opportunity to observe the rich Nepalese cultural tradition from the closest quarter and intermingle with the locals. Besides, any expenses made at that level directly contributes to the welfare of the local community, hence giving the visitor a sense of satisfaction. Village Tours are conducted in a Sirubari, Gorkha and other places.
Sightseeing
For those who can not withstand the rigorousness of mountain climbing there are mountain flights which fly around Mt. Everest and other summits providing a close-up view of the top of the world. On a clear day, the hill resorts of Nagarkot (32km East of Kathmandu), Dhulikhel (32km) and Daman (80km southwest of Kathmandu) afford magnificent views of Mt. Everest and the entire Himalayan range. For the less adventurous, Pokhara, the lake city of Nepal provides ample opportunities for fishing, swimming, canoeing and boating along with majestic panoramic views in its background.
A Rich cultural heritage
Nepal offers an incomparable scope to connoisseurs of art and culture to see and study the different aspects of fine arts in its painting, sculpture, woodcarving and architecture. The three main historic cities of Kathmandu, Patan and Bhaktapur with numerous historical monuments, old palaces and palace squares, shrines and temples, ageless traditions and legends make it veritable living museum. The Kathmandu Valley boasts seven World Cultural Heritage Sites all within a radius of 20km.
World Heritage Sites (cultural)
Swayambhu

Bouddha

Bhaktapur Durbar Square

Changunarayan

Pashupatinath

Kathmandu Durbar Square

Patan Durbar Square

Lumbini (Birthplace of Lord Buddha in southern Nepal
A rich Nutural Heriage
Thanks to Nepal's extensive and effective parks and reserves system, the country has managed to preserve more endangered species of flora and fauna than any other area in Asia. Nepal has 9 National Parks and 3 Wildlife Reserves, which include areas in the highest mountains in the world as well as sub-tropical lowland of the plains.
World Heritage Sites (Natural)
Everest National Park (1148 sq. km)

Royal Chitwan National Park (932 sq. km)
Other National Parks
Royal Bardiya National Park (968 sq. km)

Langtang National Park (1710 sq. km)

Shey-Phoksundo National Park (3555 sq. km)

Rara National Park (106 sq. km)

Khaptad National Park (225 sq. km)

Makalu-Barun National Park & Conservation Area (2330 sq. km)
Wildlife Reserves
Sukla Phanta Reserve (305 sq. km)

Parsa Reserve (499 sq.km)

Koshi-Tappu Reserve (175 sq. km)

Shivapuri Watershed and Wildlife Reserve
Conservation Areas
Annapurna (2600 sq. km)

Manaslu Conservation Area (1663 sq. m)

Kanchenjunga Conservation Area (2,035 sq. m)
Hunting Reserve
Dhorpatan (1325 sq. km)
All information above are given for reference only. They are subject to change without giving prior notice.
Newsletter Subscription: 訂閱最新旅遊資訊
Site Map · Privacy Policy 私隱政策(只附英文版)
© 2020 Exotic-Holidays.hk · All Rights Reserved.