Home > Asia > About Laos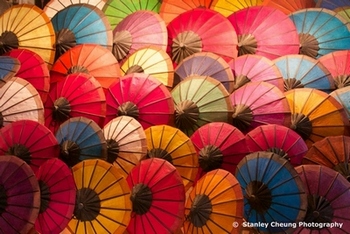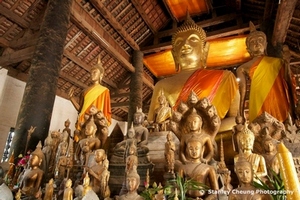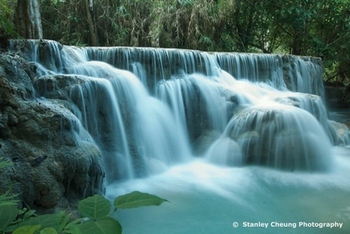 Laos

Laos can be visited throughout the year. The dry or cool season begins at the end of October and lasts until the end of February. It is necessary to take along a pullover or jacket during the cool season, as nights can be very cool, especially in the mountainous areas such as Luang Prabang, the Plain of Jars, Saravane and Houei Xai.

The hot season lasts from March to June and light cotton and hats are recommended. The rainy season starts in June and ends in October. For visitors traveling between the end of March and the beginning of April, please take note in mountainous areas where slash and burn cultivation remains, the air may be smoky and domestic flights might be delayed or cancelled.
Laos enjoys a tropical climate with three distinct seasons:

Hot Season:March - May
Rainy season: June-October
Cool Season: November - February
City

Jan

Feb
Mar
April
May
June
July
Aug
Sept
Oct
Nov
Dec
Vientiane
Max (Celcius)
28
30
33
34
33
32
31
31
31
30
30
28
Min (Celsius)
14
17
20
23
24
24
24
24
24
22
19
15
Rain (mm)
10
20
40
100
260
310
260
305
300
110
20
5
Luang Prabang
Max (Celsius)
28
30
32
39
34
34
32
32
32
31
30
29
Min (Celsius)
14
16
19
23
24
25
24
24
24
23
20
16
Rain (mm)
10
15
25
100
165
150
235
300
170
75
25
10
The local currency is the Kip. The rate of exchange, as of July 2002, is approximately 10,000 Kip to one US Dollar. Travelers can make an exchange either at licensed exchange shops in the major cities or at your hotel. While paying in Laos, credit cards are accepted at only a few places. Travelers cheques and currencies other than the US Dollars are accepted only by major banks. It is best to carry US Dollars bills in small denominations.
Laos, like Thailand, is 7 hours ahead of Greenwich Mean Time (GMT).
Working hours: Government offices are generally open Monday to Friday, from 08:00 am to 12:00 noon, and from 1:00pm to 4:00pm. Shops and private business offices open and close a bit later and either stay open during lunch or close for just an hour.
The official language of Laos PDR is Lao. It is spoken in different parts of the country. The Vientiane dialect is understood throughout the country. In spite of the colonial past, French remains the second official language. English is commonly used among business sectors and young generations.

Visas are required by all nationalities (except for neighboring people). A visa may be obtained at Lao embassies and consulates abroad, or upon arrival at airports in Vientiane, Luang Prabang and Pakse, and also at the Friendship Bridge near Vientiane.
By air:
Presently, Vientiane, Lurang Prabang and Pakse are the only legal points of disembarkation in Laos for air passengers. At the present time, Bangkok is the most common gateway for entry to Vientiane, although it is possible to come from Hanoi, Phnom Penh, Ho Chi Minh City, Kunming (China), Chiang Mai.
Overland:
The following authorized points are open daily from 08:30 am to 5:00 pm.
From Nongkhai (Thailand) by Friendship Bridge crossing the Mekong River by shuttle bus (from 06:00 am to 08:00 pm)
From Chiang Khong (Thailand) by crossing the Mekong River by ferry to Houei Xay in the northwest. (from 08:00 am to 06:00 pm)
From South China (Yunnan) to Luang Namtha province via Boten checkpoint.
From Mukdahan (Thailand) and from Quangtri (Vietnam) to Savannakhet.
From Ubon Ratchathani (Thailand) to Pakse in the south.
From Vinh (Vietnam) via Keo Neua checkpoint to Khamkeuth district Borikhamxay province, then to Vientiane by bus.
From Nakhon Phanom (Thailand) to Thakek in the center.
N.B. Entries & exits can be done vice versa
General Advice on traveling in Laos
Never drink tap water. Purified, bottled water is available everywhere. Use an insect repellant against mosquitoes, especially in upcountry and forested areas. A hat and high factor block cream is advisable as protection against the hot tropical sun when sightseeing.
Casual and light clothing, preferably natural fibers, is recommended year-round. A sweater or jacket may be useful in hill areas, particularly during winter months when evenings can be quite cool. A windproof jacket is essential when touring along the Mekong River area from November to February. An umbrella or raincoat is essential if visiting during the monsoon months (May-September).
Travelers should take adequate supplies of any prescription medicine they may need, as supplies may not be available locally. A spare pair of eyeglasses, if worn, is also advisable. Also useful is a flashlight for exploring caves or details of temple interiors that are often not properly illuminated. Extra personal insurance is recommended in case of illness or situations where medical evacuation by air is required, as hospitals are generally not up to Western standards.
All information above are given for reference only. They are subject to change without giving prior notice.
Newsletter Subscription: 訂閱最新旅遊資訊
Site Map · Privacy Policy 私隱政策(只附英文版)
© 2020 Exotic-Holidays.hk · All Rights Reserved.