Home > Asia > Laos > 4-Days Taste of Luang Prabang
---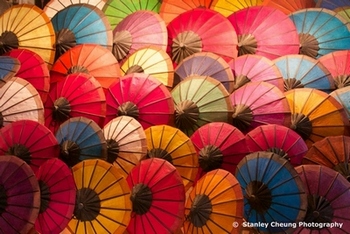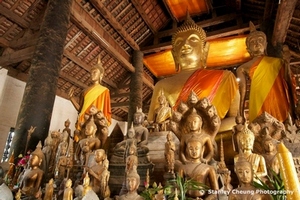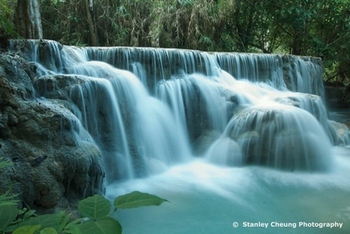 4-DAYS TASTE OF LUANG PRABANG
Luang Prabang - Pak Ou Caves

| | |
| --- | --- |
| Day 01 | Hong Kong - Luang Prabang |
Arrive at Luang Prabang and transfer to your hotel stay.
This evening a special welcoming treat awaits you as you are greeted to Luang Prabang with a traditional Baci ceremony. The Baci ceremony is performed in celebration of an important event such as weddings, births, or for welcoming guests and is a means of expressing good will and good luck to others. The Lao believe that each person has 32 spirits which constitute their spiritual essence and the Baci is the ritual used to call back any escaped spirits in to the body. Receive blessings of good luck as the locals wrap bracelets around your wrists and recite traditional chants.
Proceed to l'Elephant, one of the finest restaurants in Luang Prabang, for dinner before being driven back to your hotel. Overnight stay in Luang Prabang.
| | |
| --- | --- |
| Day 02 | Luang Prabang - Half day City Tour - Dinner Cruise on the Mekong |
After breakfast you will transfer to the historical old town of central Luang Prabang to the National Museum, which is the first stop of your Half Day City Tour.
Once the Royal Palace of Laos, the National Museum is filled with art, artifacts, and jewels and a visit examines the history and rich culture of the country. Continue on foot to Wat Mai, a temple renowned for its golden bas-relief, and Wat Sensoukarahm, which features a dazzling golden façade. Finish this morning's tour at Wat Xieng Thong, the most revered temple in Luang Prabang. Located at the end of the peninsula, close to the Mekong, this temple was built in 1560 by King Setthathirat and is decorated with ornate carvings and mosaics.
Enjoy lunch in town at Tamarind restaurant, where you will have a chance to sample unusual local specialties not available back home (Note: closed on Sundays).
After lunch, you will be driven to your hotel to relax and freshen up before heading out again later.
In the late afternoon you will be driven down to the riverbank to board the Nava Mekong, an elegant traditional-style riverboat. As you take a leisurely cruise along the Mekong River, take in views of rural villages and a beautiful sunset behind the surrounding mountains. Reach the opposite bank where the riverboat will moor during dinner time. A selection of classic Lao dishes is served while local villagers provide entertainment, featuring traditional music dances which depict Lao folk tales and legends. After dinner you will cruise back to Luang Prabang. Please note that this is not a private cruise.
A short ride will take you back to the historical center of town where you can either transfer directly back to your hotel or stop to visit the evening hill tribe market. Here you will find dozens of stalls selling local souvenirs such as handicrafts and textiles.
Overnight in Luang Prabang
| | |
| --- | --- |
| Day 03 | Luang Prabang - Half Day E-Bike tour - Evening cooking class |
After breakfast, your guide will pick you up at your hotel at 9 am for a short transfer by tuk-tuk to our electric powered bike station where you will start exploring the UNESCO World Heritage town Luang Prabang in a unique eco-friendly way!
You will cycle along tranquil lanes and past cultural sights of Luang Prabang by electric bike is a truly delightful experience.
After a short briefing to explain you the use of your new vehicle, it will be time to start your discovery of our "responsible Luang Prabang"… in a quiet way! These electric bikes are an emissions-free mode of transportation and allow the user to either pedal the bike by their own power or to coast along using the bike's battery-powered, rechargeable motor (which lasts for approximately 3km).
Start your tour with a visit to the Phosy Market where you can join the locals and support vendors by buying fresh products or fruit. Your guide will be here to encourage you to taste some of the exotic flavors of the local fruits, helping to identify new items not found in your grocery store back home!
Continue your ride to Ock Pop Tock. This non-profit organization seeks to preserve traditional weaving techniques, a trade which was once an important source of income for many Lao families but is slowly fading out as modern technology has evolved. A short tour introduces the process of silk weaving from the initial stages of creating the dyes to the final process of loom weaving.
Ride along the Mekong back in to town for your final stop of the day. The Traditional Arts & Ethnology Centre is dedicated to exploring the rich diversity of Laos' ethnic minorities. Traditional costumes, tools, and artifacts are on display alongside in-depth descriptions and written histories. It is a great opportunity to gain insight in to the Lao people (Note: closed on Mondays).
Return to the bike station to drop off your electric bikes and transfer to your hotel by tuk-tuk.
Cycle along the banks of the Mekong to the bike station. After dropping of your bikes, enjoy lunch at Le Tangor, one of the best restaurants in Luang Prabang, well known for its pleasant atmosphere and its unique fusion food blending the best of seasonal Lao produce with French flair.
After lunch, transfer back to your hotel and enjoy some free time to admire the exceptional atmosphere of Luang Prabang.
You will be picked at 15.30 for a private Evening Cooking Class at a stunning lake side location. This experience is the perfect way to learn the secrets of Lao cuisine.
The expert chefs will first demonstrate how to prepare authentic Lao dishes. Then it's your turn to try your hand at cooking local Lao cuisine. Slice and pound your way through the ingredients before cooking each dish in the traditional way. You will be given a cook book that you can take home to practice your newly learnt cooking skills and relive your time in Laos.
After a few hours of concentration and smelling all of the wonderful flavors, you are sure to enjoy tucking in to your creations for dinner.
Your guide and driver will meet you for a private transfer to your hotel and you can expect to be back around 2100 (if you prefer to be dropped off at a bar in town and make your own way home then discuss this with the guide).
Overnight in Luang Prabang
Distance and journey time:
Hotel - E-bike station (2km) - 5 mins
Hotel - Cooking class private garden (8km) - 15 minutes
| | |
| --- | --- |
| Day 04 | Luang Prabang - Hong Kong |
For early risers, there is a very special dawn visit to watch the monks collecting the alms. As the sun begins to rise, long lines of orange-robed monks leave their pagodas and walk barefoot down the streets collecting offerings from Luang Prabang residents. It is a beautiful, serene ceremony that highlights the spiritualism of the Laos people. Return to the hotel for breakfast.
Depending on your flight schedule, there may be time to start a unique tour which supports two excellent local charities and allows clients to donate to local communities whilst minimising any negative impacts. The idea behind this excursion is to help the local community without being invasive. The books are sourced from excellent local charities; Big Brother Mouse and Pha Tak Ke.
Big Brother Mouse is a not-for-profit, Lao-owned project employing local staff who work with the goal of helping young Laotians develop new and beneficial skills, it is not an NGO. Started by a retired American publisher working with several bright and dedicated Laotian college students, Big Brother Mouse started publishing "books that make literacy fun!". The books are written and illustrated by Lao writers for children to educate themselves through reading. The cost of 5 books is included in every Bucket of Books, with that money going directly to Big Brother Mouse.
A picnic lunch, catered by l'Elephant, is included for you to enjoy in the countryside.
You will be taken by a private transfer to the airport in time for your onward flight.
Have a nice holidays!
Remarks :
Every effort will be made to adhere to the planned itinerary. However, due to weather conditions and reasons beyond our control, changes to the itinerary might occur, for which the company accepts no responsibility.
We offer private tailor-made itinerary on Laos which offer you complete freedom of choice. Prices vary according to your selected accommodation, total number of passengers travelling in your party and seasonality of travel; please feel free to contact us for individual tailor-made itinerary as per your travel plan.
Tour code: LLMTLP
Newsletter Subscription: 訂閱最新旅遊資訊
Site Map · Privacy Policy 私隱政策(只附英文版)
© 2020 Exotic-Holidays.hk · All Rights Reserved.