Home > Asia > About Cambodia
---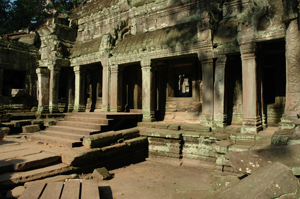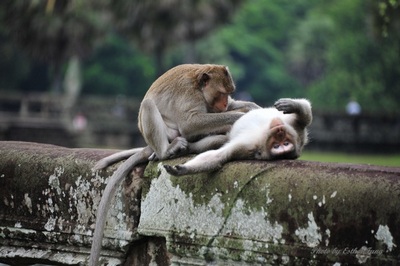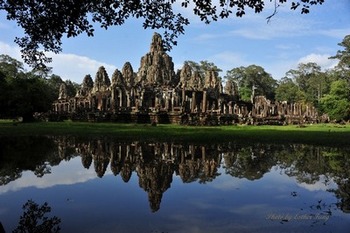 CAMBODIA
Passport and Visas
A tourist visa is required for entry into Cambodia. Visas can be obtained upon arrival at either Pochentong Airport or Siem Reap Airport.
Immigration formalities are quicker when travellers already posses their visa. However, Cambodia has very liberal visa regulations. For USD 20 all travellers can obtain a tourist visa valid for 30 days upon arrival at Phnom Penh and Siem Reap airports or in Aranyaprathet, Thailand (Poipet border crossing). A passport valid for at least 6 months beyond the end of the visit and one passport photo is needed.
Visitors arriving overland from Ho Chi Minh city, Vietnam at the Bavet border crossing, from Laos (Veun Kham border crossing) or from Thailand at Trat (Hat Lay border crossing) must obtain a visa which clearly indicates their entry point prior to reaching the Cambodian border.
Angkor Complex
A passport-sized photo must be attached to the multiple day entrance passes to the Angkor complex (2-3 days pass and one-week pass). Visitors can have their picture taken at the entrance checkpoint (USD 1 per photo). However, we recommend all visitors arriving in Siem Reap have a passport photo ready prior to arrival.
Currency and Banking
The official currency is the Rie. The rate of exchange is approximately USD 1 = 3,500 Riel at time of writing. In Phnom Penh and most major tourist destinations, almost all goods and services are calculated and paid for in US dollars. Major currencies and traveller's cheques can be exchanged at banks and foreign exchange bureaus although it is limited to Phnom Penh and Siem Reap. Credit cards are of limited use in Cambodia although larger hotels in Phnom Penh and Siem Reap will accept Visa and Master card. Traveler's cheques and currencies other than U.S. Dollars are accepted only by major banks. It is best to carry US Dollars in small denominations.

In Phnom Penh, you can only change the Euro at the Cambodian Public Bank (other banks do not accept the Euro yet) and in Siem Reap at the Mekong Bank and the Cambodian Bank.
Climate
Cambodia can be visited throughout the year. However, for those planning to travel extensively by road should avoid the last two months of the rainy season when some countryside roads may be impassible.
The climate is tropical and distinguished by three major season:
The most pleasant is the dry season from November to March during which temperatures are cooler (average 20-28 C). January is the coolest and the most pleasant month to visit.
The hot season lasts from April to May (average 30-35C).
The Rainy season lasts from June to early October, during which temperatures are relatively cool (average 25-30C). At this time of year it rarely rains in the morning: most precipitation comes in the afternoon, and even then, only sporadically. Rainfall varies considerably from area to area. Whereas the seaward slopes of the south-west highlands (Kompong Som and Kampot provinces) receive more than 5,000 mm of rain per annum, the central lowlands average only 1,400mm.
Festival and Holidays
Traditional Cambodian festivals are set according to the Khmer lunar calendar. There are some 30 public holidays celebrated each year in Cambodia. The most important of these is the Cambodian New Year
Chaul Chhnam which falls in mid-April which coincides with the Lao and Thai new year.
Also in April is the Visak Bauchea, the most important Buddhist, commemorating the birthday and illumination of Buddha.
In late October or early November is the Festival of the Reversing Current (also known as the Water Festival) when the Tonle Sap reverses flow and begins to empty into the Mekong. Pirogue races are held in Phnom Penh.
National Day (January 7th) commemorates the Vietnamese overthrow of Pol Pot in 1979.
Genocide Dayon May 9th is a memorial day for those who suffered the atrocities of the Khmer Rouge. Also of importance is King Sihanouk's birthday on 31th October.
People
The population of Cambodia is approximately 10.5 million people of which 85% are Khmer. The remainder is comprised of hilltribe groups, Cham, Vietnamese, Chinese and Thais.
Languages
The official language is Khmer which is a non-tonal language of the Mon-Khmer family. The Khmer language is very unique and distinctive To the Western eye, the characters are very much like those of Thai, but a closer look reveals they are in fact quite different .
French was widely spoken before 1975. Today English is more commonly taught in schools. Other spoken languages include Chinese, Vietnamese and Russian.
Religion
Thervade Buddhism was reinstated as the state religion in the late 1980s (it was illegal under the Pol Pot regime) and today 90% of the population is Buddhist. Other practising religions include Catholicism, Taoism/Confucianism, Islam and Animism.
Entertainment
Theatre and dance are central to the Khmer culture. Most famous is the Royal Ballet which is depicted numerously on the bas reliefs of Angkor Wat. Representing the apsaras (celestial female dancers) the dances are symbolic, slow, graceful gestures which conform to a strict and precise language of movement. Each dance is an act of worship and blessing. Most of the dancers are women.
Traditional Khmer dancing can be seen at the National Theatre. In addition, the theatre has produced a contemporary history called the Life of the Nation of Cambodia.
General Advices
Drinks lots of water. Purified, bottled water is available everywhere. Never drink tap water.
Use an insect repellent against mosquitoes. It is the only way to be sure of protection against mosquito-borne diseases.
Since Cambodia has a hot and humid tropical climate, casual and lightweight clothing is best. Clothing made from natural fibers is the best option. A jacket might be needed on cool winter evenings or in hotels and restaurants using excessive air-conditioning.
A hat and high-factor sun block is advisable as protection against the hot sun when sightseeing outdoors. When visiting temples or pagodas, including those of Angkor Wat, shorts and T-shirts are acceptable. Shoes (as well as hats) are generally removed at the entrance to pagodas. For visits to the Silver Pagoda, which is within the Royal Palace grounds in Phnom Penh, visitors are asked to dress more formally. Gentlemen are required to wear long trousers and ladies should wear long trousers or long skirts. Color standard film (such as Kodak, Konica or Fuji), slides film, video film and camera batteries are widely available. Photos are inexpensive to process in the country. Any specialized photo or video equipment should be brought with you. Photography and video in airports, railway stations and near any military installations is forbidden and discretion should be used when photographing people, particularly monks and those in hill tribes.
All information above are given for reference only. They are subject to change without giving prior notice.
Newsletter Subscription: 訂閱最新旅遊資訊
Site Map · Privacy Policy 私隱政策(只附英文版)
© 2020 Exotic-Holidays.hk · All Rights Reserved