Home > Asia > Thailand > Travel Ideas > 7-Days Classic Thailand
---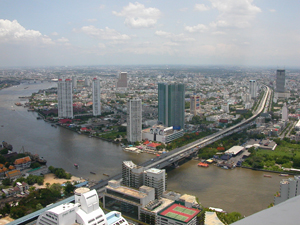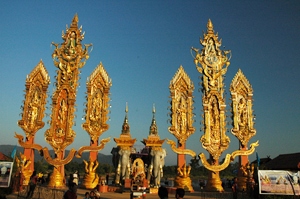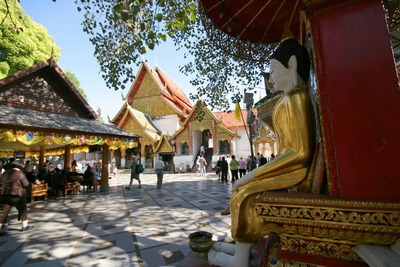 7-Days Classic Thailand
Bangkok~Ayutthaya~Sukhothai~Chiang Mai~ Chiang Rai

Upon arrival at Bangkok Airport, our airport representative will meet to assist you for your transfer to the hotel.
| | |
| --- | --- |
| Day 02 | Bangkok ~ Ayutthaya |
Depart from Bangkok in the morning and drive north to Ayutthaya.
Upon arrival, hop on a "Kermit" Tuk Tuk (a special type of motorized Tuk Tuk available only in Ayutthaya and Trang provinces in the South) to discover the magnificent ruins and ancient temples in the historical park. Briefly stop near the Muslim quarter and sample one of the most famous delights of Ayutthaya – candy floss roti. If time permits, visit local houses to see how handicrafts such as palm leaf fish mobiles are produced. You will then enjoy Thai lunch at a local restaurant.
In the afternoon, enjoy a leisurely long-tail boat ride to Bang Pa-In Summer Palace and explore the majestic royal mansions which are usually quiet in the afternoon. Continue to Wat Niwet Thammaprawat, one of the most distinctive Buddhist temples with its remarkable Gothic style architecture and stained glass windows.
Overnight in Ayutthaya.
| | |
| --- | --- |
| Day 03 | Ayutthaya – Lopburi – Phitsanulok - Sukhothai |
Breakfast at hotel and proceed to Lopburi. The province has been an important part of the Khmer Empire, later a part of Ayutthaya Kingdom, and Ayutthaya's second capital under the reign of King Narai, the Great. Visit the famous for the hundreds of crab-eating macaques that overrun the Old Town, especially in the area around Phra Prang Sam Yod and Phra Kaan Shrine.
Continue driving further north to Phitsanulok, lunch and visit Wat Mahathat featuring Thailand's most beautiful Buddha image – Phra Putthachinnarat. Visit to Cha Tawee Folk Museum. We also include a fresh market nearby the train station for your cool snack experience, sampling various kinds of fried insects like cockroaches and grasshoppers. One of the amazing things in Thailand that you should try, even though it's unpleasant look but the taste is the challenge!
After that drive to Sukhothai, a name meaning dawn of happiness, which was founded in the 13th century and became the kingdom's first capital, overseeing a period known as the golden age of Thai history.
Overnight in Sukhothai.
| | |
| --- | --- |
| Day 04 | Sukhothai - Lampang – Chiang Mai |
Breakfast at the hotel.
Morning visit starts at Sukhothai Historical Park which was once a walled city surrounded by a moat, the park contains almost 200 ruined chedis in remarkable conditions. See the main sites of the Historical Park. Bike ride is possible in supplement in the historical park. A nice and easy way to stroll around the ruins!
Continue up to the north to Chiang Mai via a stop in Lampang. Visit Wat Phra That Lampang Luang, one of the most spectacular temples in Thailand. Dating back to 1486, it is believed to be one of the oldest wooden buildings in Thailand. Next visit is "FAE", Friends of the Asian Elephant, where you will learn more about the living conditions of the elephants in the natural surroundings. Visit the World's First Elephant Hospital to observe the way the elephants being treated.
Arrive Chiang Mai later in the afternoon.
Overnight in Chiang Mai.
Depart your hotel at 06.00 AM and arrive at the foot hill of Doi Suthep mountain, in time to buy offerings and join the locals during the daily alms giving ceremony. This is a serene Buddhist procession where dozens of monks walk barefoot through the street collecting food and everyday items. Continue up the mountain to Wat Doi Suthep and climb the 309 steps of the Golden Naga stair case to reach its golden pagodas. Proceed to Wat Umong, built in the 14th century, a heavily forested temple covered by moss and small plants offering a unique yet charming sense of natural decay. After a walk through its mysterious tunnels you reach the Viharn of the temple to experience your own private blessing ceremony.
After, enjoy this lovely day with a delicious bowl of Khao Soy. This famous Northern Thai dish is a combination of coconut cream, crispy noodles and plenty of spice that is sure to delight!
In the afternoon, head towards the Mae Ping River banks and Waroros market for a stroll among the colorful stalls. Continue by rickshaw along Tapae Road, Chiang Mai's main street. From the eastern gate, explore ancient Chiang Mai on foot, including the Three Kings Monument, the city's most important temples Wat Chedi Luang, where the famous Emerald Buddha was once enshrined, and Wat Phra Singh, home to a very old and sacred Buddha image.
Overnight in Chiang Mai.
| | |
| --- | --- |
| Day 06 | Chiangmai - Chiang Rai |
After breakfast at the hotel, depart from Chiang Mai to Chiang Rai, and en route visit is Wat Rong Khun with its unique "kanok" architecture. Continue your visits with some of the temples of the town, Wat Phra Kaew with its beautiful brass and copper Buddha image.
Lunch at a local restaurant.
Drive to Mae Sai, the northernmost Thai town on the Myanmar border. Walk around the local market, and continue to visit Chiang Saen on the steep banks of Mekong River, opposite of Laos where you will see some magnificent ancient ruins and temples. Take a boat ride along the Mekong River to get a closer look at Laos and Myanmar. Stop at the Golden Triangle viewpoint for a panoramic photography of the triangle.
Overnight in Chiang Rai.
| | |
| --- | --- |
| Day 07 | Chiang Rai ~ Bangkok ~ onward destination |
Transfer out to Chiang Rai Airport to catch a flight back home via Bangkok.
Have a nice holidays!
Our private tailor-made itinerary offer complete freedom of choice. Prices vary according to your selected accommodation, total number of passengers travelling in your party and seasonality of travel; please feel free to contact us for individual tailor-made itinerary as per your travel plan.

Newsletter Subscription: 訂閱最新旅遊資訊
Site Map · Privacy Policy 私隱政策(只附英文版)
© 2020 Exotic-Holidays.hk · All Rights Reserved.