Home > Asia > Thailand > Travel Ideas > 6-Days Chiangmai & the Golden Triangle
---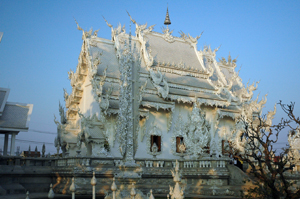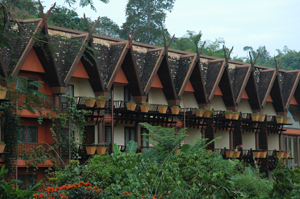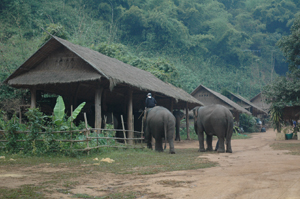 6-Days Chiangmai & the Golden Triangle
Chiang Mai~Golden Triangle~Chiang Rai

Arrival at Chiangmai and transfer to your hotel stay.
Overnight in Chiangmai.
Free day at leisure in Chiangmai.
Overnight in Chiangmai.
| | |
| --- | --- |
| Day 03 | Chiangmai ~ Golden Triangle |
Drive north of Chiang Mai towards Tha Thon stopping to visit Chiang Dao limestone cave complex. Continue across the Mae Kok River and drive north to Doi Mae Salong to visit Akha and Yao hill tribe villages. Also see the Chinese village inhabited almost entirely by descendents of the Kuomintang Chinese nationalist army that fled the communists after the People's revolution in China. The village retains a distinctly Yunnanese atmosphere. Continue to your hotel for dinner and overnight.
Overnight in the Golden Triangle area.
Visit Mae Sai to see the bustling Burmese border market. Continue to Sop Ruak where to see the point of the Golden Triangle where the Mekong River converges on Laos, Myanmar and Thailand. Visit the Hall of Opium, an impressive and informative museum that documents the history of the area and details its links to the opium trade. Continue to the 13th century ruined city of Chiang Saen and the heart of the Golden Triangle where the Ruak and the Mekong Rivers meet and take a boat ride along the Mekong River to get a closer look at Laos and Burma. Return to your hotel in the late afternoon.
Overnight in the Golden Triangle area.
| | |
| --- | --- |
| Day 05 | Golden Triangle ~ Chiangmai or Chiangrai |
After breakfast, check out of the Hotel and make a short tour of Chiang Rai to see Wat Pra Singh and the Haw Kham Mae Fah Luang Royal Museum. Then depart for Chiang Rai airport for your flight to Bangkok or return to Chiang Mai by car.
Overnight in Chiangmai or ChiangRai
| | |
| --- | --- |
| Day 06 | Chiangmai or Chiangrai departure |
Transfer to airport for your departure.

Have a nice holidays!
Our private tailor-made itinerary offer complete freedom of choice. Prices vary according to your selected accommodation, total number of passengers travelling in your party and seasonality of travel; please feel free to contact us for individual tailor-made itinerary as per your travel plan.

Newsletter Subscription: 訂閱最新旅遊資訊
Site Map · Privacy Policy 私隱政策(只附英文版)
© 2020 Exotic-Holidays.hk · All Rights Reserved.