Home > Asia > Thailand > Travel Ideas > 4-Days River Kwai Nature & Adventure Family Experience
---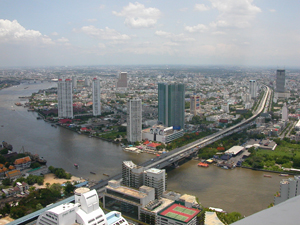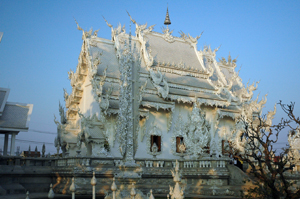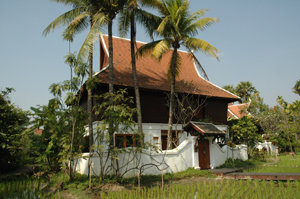 4-Days River Kwai Nature & Adventure Family Experience
Bangkok~Nakhon Pathom ~ Kanchanaburi ~ Bangkok

| | |
| --- | --- |
| Day 01 | Bangkok - Nakhon Pathom - River Kwai |
Early this morning, drive south from Bangkok towards Kanchanaburi with an en-route stop at Nakhon Pathom, where you will visit Woodland Muangmai Fantasy Museum. Here, you can enjoy the legendary "Tales of the Wood" through unique and beautiful wooden art pieces from various places. Following this, proceed to Kanchanaburi.
Upon arrival in Kanchanaburi, lunch at a local restaurant. After lunch, embark on a long-tail boat and cruise around the River Kwai. Disembark at the pier in Kanchanaburi, next to the Bridge over River Kwai, where you can stop for a photo opportunity of the bridge from the main ground. Then continue for a visit to Death Railway Museum & Research Centre and War Cemetery.
Dinner at the hotel, and overnight in Kanchanaburi.
Distance and journey time:
Bangkok – Nakhon Pathom (56.4 km): 1.08 hr
Nakhon Pathom – Kanchanaburi (68.7 km): 1.20 hr
After breakfast, depart for Erawan Waterfall - a beautiful seven-tiered waterfall. Located in Erawan National Park, the best time to visit is during rainy season from May until September. Guests will be able to walk up to each tier of these picturesque falls, so it is best to bring good walking shoes. Also guests should remember to bring their swimming suit so they can cool off in the falls' natural pools. Then continue by car through the national park area to Phra That Cave - a large mountain cave filled with stunning stalactites and stalagmites.
After lunch, take a short train ride along the infamous 'death railway' through Kwai Noi gorge.
After the ride, transfer to your resort.
Dinner at the resort.
Overnight in Kanchanaburi.
After breakfast at the hotel, start a day trip to Elephant World, located just half an hour from the famous River Kwai Bridge. Elephant World is a sanctuary for elephants with nowhere else to go. Here, they can enjoy the natural jungle landscape in peace and harmony.

Following a warm welcome and introduction from the volunteers at Elephant World, it's off to meet the elephants themselves. You will be introduced to each elephant and have the opportunity to work for them under guidance from the 'mahout' – the local elephant handler. This includes enjoyable activities like cutting sugar cane or banana plants to feed the elephants.

After a Thai lunch at the camp, you have the incredible opportunity to take a bath with the elephants in the Kwai Yai River! Help give them a good scrub, before walking the elephants back into the camp, and then on into the forest where they will spend the night.
Return to the hotel.
Dinner and overnight in Kanchanaburi.
| | |
| --- | --- |
| Day 04 | Kanchanaburi - Bangkok |
Breakfast at the hotel, check out and transfer back to Bangkok hotel or Bangkok Suvarnabhumi Airport.
Distance and journey time:
Kanchanaburi – Bangkok (123 km): 2.11 hr
Have a nice holidays!
Our private tailor-made itinerary offer complete freedom of choice. Prices vary according to your selected accommodation, total number of passengers travelling in your party and seasonality of travel; please feel free to contact us for individual tailor-made itinerary as per your travel plan.

Newsletter Subscription: 訂閱最新旅遊資訊
Site Map · Privacy Policy 私隱政策(只附英文版)
© 2020 Exotic-Holidays.hk · All Rights Reserved.