Home > Europe > Iceland > 8-Days Iceland Photography Tour
---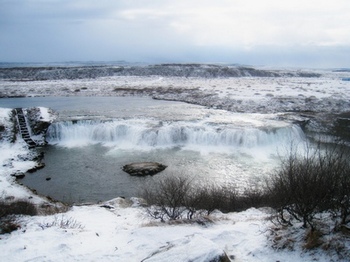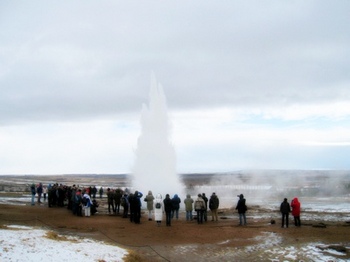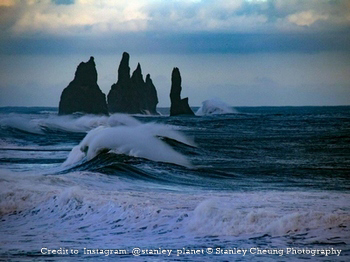 8-Days Iceland Photography Tour
With Icelands contrasting nature it is the ideal location for photographers to catch the perfect image. From the snowy mountains in the westfjords, the spectacular waterfalls, spouting geyser, and black sand beaches of the south to the Glacier Lagoon and wild reindeer in the east, each region of Iceland has its own cultural identity and uniquely different nature.
Your private car and a local guide will be waiting for you at the airport. Drive from Keflavik to Reykjavik and check-in at your hotel.
Hotel stay in Reykjavik
| | |
| --- | --- |
| Day 02 | Thingvellir – Geysir – Gullfoss |
First stop is Thingvellir National Park where the ancient parliament met for centuries on the shores of Iceland's largest lake. Continue through the farmlands to the thermal area of the great Geysir and Strokkur spouting hot springs. Spend time catching the perfect moment before visiting Gullfoss, known as the "Golden Waterfall".
Dinner and overnight: Flúðir area.
Hotel stay in Fludir
| | |
| --- | --- |
| Day 03 | South Shore – Eyjafjallajokull Volcano |
We will spend this day exploring the region close to the towering, strato-volcano Eyjafjallajokull, which is probably the most famous volcano in the world today. At the Iceland Erupts Visitor Centre by Thorvaldseyri Farm, located beneath Eyjafjallajokull Volcano, you will be able to see, both in pictures and on movie, the eruption and its impact on the countryside, the country itself and the whole world. Driving along the south shore we will make a stop at the spectacular waterfalls Seljalandsfoss and Skogafoss. Onwards to Reynisfjara beach, viewing the extraordinary rock formations and thundering waves of the Atlantic Ocean. Here we will spend time photographing from the amazing black sand beach.
Dinner and overnight: Kirkjubaejarklaustur area.
Hotel stay in Klaustur
Day 04

Skaftafell National Park - Jokulsarlon Glacial Lagoon

冰河湖
Skaftafell National Park is one of Iceland's most outstanding areas of natural beauty dominated by the glacier Vatnajokull, Europe's largest ice cap. Continue to Jokulsarlon Glacial Lagoon where you can enjoy a breathtaking sight of floating icebergs on the fantastic 180m deep glacial lagoon. This is one of the most photographed sites in Iceland and we will spend a good amount of time here catching the stunning scenery.
Dinner and overnight: Höfn area
Hotel stay in Hofn.
Today we drive slightly further east, to explore a different landscape to what we have seen so far. There are beautiful mountains, tundra and hopefully we will see wild Reindeers. In the evening, we will hunt for the Northern Lights around the Glacier Lagoon.
Dinner and overnight: Höfn area.
Hotel stay in Hofn.
| | |
| --- | --- |
| Day 06 | Glacier Lagoon & Ice Cave |
We will start our day by going with a local mountain guide into an ice cave, which is incredibly unique and unlike anything else in the world. It is an amazing experience and wonderful to photograph. Here we will spend plenty of time inside the cave and also go on a short glacier walk with our guide, learning about the glaciers and the area. We finish our day by revisiting the Glacier lagoon in the afternoon light before heading back to Kirkubæjarklaustur village. (Ice Cave is generally only visible during the winter time Mid November to mid March)
Dinner and overnight: Kirkjubæjarklaustur area.
Hotel stay in Klaustur.
| | |
| --- | --- |
| Day 07 | Hveragerði - Blue Lagoon - Reykjavik |
We head towards the village of Hveragerdi which is one of the few sites in the world located directly on top of a geothermal area. Hveragerdi is often called "The flower village" because of its many greenhouses heated by hot water from nearby springs. The tour continues to Strandarkirkja a church popularly believed to have the power to aid success or provide good luck. Then along the coast with breathtaking sea waves through a community once flourishing and now deserted. On to the Reykjanes peninsula where we enjoy a dip in the famous Blue Lagoon which is a unique wonder of nature with pleasantly warm mineral rich geothermal water in a middle of a black lava field. Return to Reykjavik where the evening is at your own leisure.
Dinner and overnight: Reykjavik.
Hotel stay in Reykjavik.
| | |
| --- | --- |
| Day 08 | Reykjavi departure |
Transfer to Keflavik airport for departure.
Have a nice holidays!
Remarks :
Every effort will be made to adhere to the planned itinerary. However, due to weather conditions and reasons beyond our control, changes to the itinerary might occur, for which the company accepts no responsibility.
All tours can be shaped according to your travel time and budget, from luxury hotels to basic camping, whether for one day or many, taking in the sights with a well-trained guide, or action packed days to experience Iceland's landscape. We can provide all the services you need; with transportation in private vehicle, qualified and experienced tour guides, itinerary planning, booking restaurants, accommodation, museums, entertainment, activities and many other things to make your tour comfortable, informative and enjoyble. By combining your own ideas and special interests with our knowledgeable tour planning team, we can creat your own unique group tour that will show you what you want to see in Iceland!
Booking and further information:
Early booking is highly recommended to avoid disappointment. Please feel free to contact our travel planner for any information or planning of this life time adventure!
Newsletter Subscription: 訂閱最新旅遊資訊
Site Map · Privacy Policy 私隱政策(只附英文版)
© 2020 Exotic-Holidays.hk · All Rights Reserved.